Sep 27, 2016
Celtic Woman Voices of Angels Tickets On Sale October 5
Coming to the Cobb Great Hall on Sunday, June 18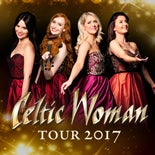 CELTIC WOMAN, The Voices of Angels World Tour, will be featured at Wharton Center on Sunday, June 18, in the Cobb Great Hall. Tickets to see CELTIC WOMAN will be available to purchase at the Auto-Owners Insurance Ticket Office, by calling 1-800-WHARTON, or online on October 5.
Multi-platinum international music sensation, CELTIC WOMAN, is returning with a brand new live show, 'Voices Of Angels,' for an extensive North American tour in spring 2017. The announcement coincides with details of the release of their spectacular new studio album, also titled Voices Of Angels, which will be released on November 18, 2016. The album contains some of the most popular songs from the CELTIC WOMAN repertoire along with several previously unrecorded tracks, all with stunning new orchestral arrangements recorded with the 72-piece Orchestra of Ireland.
CELTIC WOMAN has a remarkable twelve-year legacy of introducing the most talented singers and musicians from Ireland onto the world stage. Voices Of Angels showcases the angelic voices of Susan McFadden, Mairéad Carlin, and Éabha McMahon and introduces the breathtaking new Celtic violinist Tara McNeill.
Following its debut on PBS in 2005, the group has achieved massive success encompassing ten chart-topping albums, eight DVDs and nine public television specials leading to sales of over ten million albums, with platinum success in nine countries. Each of its ten CDs – including 2016's Destiny - has debuted at #1 on Billboard's World Albums chart. The group has been named Billboard magazine's #1 World Albums Artist six times.
The show is renowned for its high-quality entertainment, exceptional musical performances and stunning visual productions, enthralling audiences of all ages.
Print This Page