Feb 10, 2017
Disney's THE LION KING returns as part of Wharton Center's 2017-2018 Season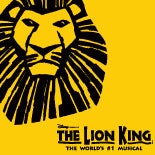 Wharton Center is pleased to announce the return of Disney's THE LION KING as part of the Center's 35th Anniversary Season. Executive Director Mike Brand notes, "This is a special season for us and we wanted to celebrate with one of the most popular shows ever to come to Wharton Center. The Broadway blockbuster returns July 2018 for a three week run. This will be the third engagement of Disney's The Lion King at Wharton Center. The
last time the show was at Wharton was in 2009. Almost a decade later it is still the most requested Broadway show in our history."
Wharton Center subscribers to the 2017-2018 35th Anniversary Season will have the first opportunity to purchase tickets to THE LION KING. Subscribers receive special benefits, including discounts and access to the best seats before they go on sale to the general public. Subscriptions go on sale mid-April 2017.
Sign up to receive to receive a brochure in the mail. And join the Wharton Center eClub in order to receive the first opportunity to subscribe.
More than 90 million people around the world have experienced the awe-inspiring visual artistry, the unforgettable music, and the uniquely theatrical storytelling of THE LION KING – one of the most breathtaking and beloved productions ever to grace the stage.
Winner of six Tony Awards®, including Best Musical, THE LION KING brings together one of the most imaginative creative teams on Broadway. Tony Award®-winning director Julie Taymor brings to life a story filled with hope and adventure set against an amazing backdrop of stunning visuals. THE LION KING also features the extraordinary work of Tony Award®-winning choreographer Garth Fagan and some of Broadway's most recognizable music, crafted by Tony Award®-winning artists Elton John and Tim Rice. There is simply nothing else like THE LION KING.
THE LION KING is welcomed by: Auto-Owners Insurance; Delta Dental of Michigan; Farm Bureau Insurance; Jackson National Life Insurance Company; and McLaren Greater Lansing.
Print This Page