whARTon at home Connections
Our stages may be dark, but the creative process endures
The stages at Wharton Center are quiet now, providing us with a unique opportunity to engage in new ways with extraordinary artists who make performing arts happen. whARTon at home Connections is a series of in-depth conversations with artists exploring their process, their insights into creativity, and a look at their personal success stories. Wharton Center stages will again ignite with live entertainment but until that time, join us once a month for a conversation with an artist exclusively for you from the comfort of your home.
A conversation with Tom Hanks
Watch our exclusive conversation with two time Academy Award-winning actor, Tom Hanks.
A conversation with Anita Gaffney, Executive Director of Stratford Festival
The Stratford Festival of Canada is one of the largest and most prestigious theatre companies in the world. So how does one go from selling ice cream in the lobby to eventually overseeing this enormous operation with an annual budget in excess of $60 million dollars? You'll find out when we talk with Anita Gaffney, Stratford Festival's Executive Director, about her amazing rise to the top, about the Festival itself and it's post-COVID plans to resume producing theatre.
Bio: Anita Gaffney

Since being appointed Executive Director of the Stratford Festival in 2012, Ms Gaffney has guided the Festival towards financial stability while supporting the introduction of a number of new initiatives including The Forum, The Laboratory, the HD film series and the Stratford Direct bus service. The Festival is in the midst of a $100 million campaign to support the redevelopment of the Tom Patterson Theatre and the activities housed in this new facility. The new Tom Patterson Theatre is set to open in the spring of 2020.

Ms Gaffney joined the Festival in 1991 as a Publicity Assistant, and over the past 29 years has held a variety of positions, including Director of Marketing during the theatre's years of peak attendance.

An active member of the Stratford community, Ms Gaffney is Past Chair of the City of Stratford's economic development agency, the Stratford Public Library, and in 2011 she served as the Campaign Chair of the United Way Perth-Huron.

Ms Gaffney was named one of Canada's Most Powerful Women by the Women's Executive Network in 2018 and received an honorary doctorate from Western University in 2019.

She participated in the Governor General's Leadership Conference in 2008 and received a Business Excellence Award for Personal Achievement from the Stratford and District Chamber of Commerce in 2006

She has an MBA from the Richard Ivey School of Business and a degree in English Language and Literature from Western University. She has continued her executive education through Harvard Business School. She resides in Stratford with her husband, Kevin.
A conversation with José Rivera, Playwright and Screen Writer
Join us as we talk with award-winning playwright and screenwriter José Rivera about his extraordinary career and life where at one point he was working as a janitor during the day to survive and writing plays at night and is now sighted as one of America's most accomplished and daring writers. Mr. Rivera will discuss his theatre and film career.
Bio: José Rivera

José Rivera's 26 plays have been seen nationally and internationally and translated into a dozen languages. His Obie Award winning plays Marisol and References to Salvador Dali Make Me Hot, both produced by The Public Theatre, NY, are taught at universities around the country. Other plays include Cloud Tectonics, Sueño, Boleros for the Disenchanted, Brainpeople, Massacre (Sing to Your Children), The Last Book of Homer, and Adoration of the Old Woman. His screenplay "The Motorcycle Diaries," was nominated for 2005 Best Adapted Screenplay Oscar (making him the first Puerto Rican writer so honored), BAFTA and WGA Awards. "On the Road" premiered at the 2012 Cannes Film Festival. "Trade" was the first film to premiere at the United Nations. Rivera co-created and produced "Eerie, Indiana," (NBC) and was a staff writer on "Penny Dreadful: City of Angels" (Showtime) 2019. In 2019 he produced and directed the short film "The Fall of a Sparrow" as well as the world premiere workshop of his play Lovesong (Imperfect) at the 14th Street Y. He has served on the boards of Theatre Communication Group and the Sundance Institute and mentored at Sundance Screenwriting Labs in Utah, Jordan, and India. He is currently writing all 20 episodes of the TV adaptation of One Hundred Years of Solitude for Netflix. His most recent play Your Name Means Dream was given a reading at the 2020 Sundance Theatre Lab.
A conversation with Frannie Shepherd-Bates, Founder and Director of Shakespeare in Prison
Premieres December 14, 2020, at 7pm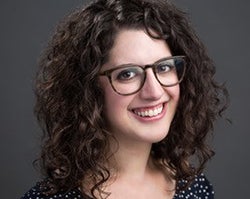 Shakespeare in Prison, Detroit Public Theatre's signature community program, empowers incarcerated and formerly incarcerated people to reconnect with their humanity and that of others; to reflect on their past, present, and future; and to gain the confidence, self-esteem, and crucial skills they need to heal and positively impact their communities. Join Frannie Shepherd-Bates and Wharton Center's Bert Goldstein plus one or two actors from the program to explore how theater and Shakespeare have changed the lives of people who have been incarcerated.


Bio: Frannie Shepherd-Bates

Frannie is the founder and director of Shakespeare in Prison, Detroit Public Theatre's signature community program. In addition to her prison work, Frannie has directed plays for many of southeast Michigan's theatres and youth education programs. She also served as Director of Programs for Detroit Public Theatre, and Director of Education for Water Works Theatre Company for several years. Frannie has been recognized for her work as an artist and arts advocate by the Wilde Awards (Critics' Choice 2013; Best of the Bard 2015; Best Play nomination 2016), the Pulsar Awards (Best Play 2017), and CBS Detroit. She has spoken about prison theatre at conferences such as Shakespeare in Prisons (2013, 2017), Pedagogy and Theatre of the Oppressed (2017), Art X Detroit (2015), and Human Rights Through Education (University of Michigan, 2013). She has been featured numerous times in local, regional, national, and international media for her work in prisons and as an artist.