Live at Wharton Events
Live At Wharton events are an eclectic mix of new and established entertainers and events that we are not able to pre-schedule into our season. These are additional shows we insert into the performance calendar throughout the year – concerts, comedians, entertainers and unique events.
This list is ever-changing with events added regularly – be among the first to learn about future events – join our eClub Now!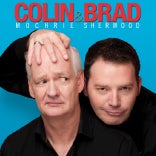 The Scared Scriptless Tour
Cobb Great Hall