Andrea Ragan Spotlight Story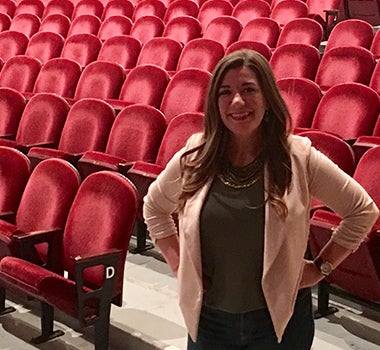 Growing up in Gaylord, Andrea Ragan wasn't a diehard theater fan.
She went to some community theater shows with her family, but the performing arts weren't her focus.
Then her parents became obsessed with Wicked after seeing it on tour in Detroit. And they were determined to convert their twentysomething daughter.
"Every road trip we went on, they're listening to the soundtrack in the car and pausing it and saying, 'Isn't that clever? Did you hear the lyrics? Isn't that hilarious?' – and this was for a show I hadn't seen," she recalled.
"I was rolling my eyes and thinking, 'Yes, this is SO exciting, SO clever …'"
She wasn't convinced. Her mom was undeterred.
"She got me Wicked tickets for my birthday," Andrea said. "That's like someone who loves bowling getting YOU a bowling ball for your birthday."
Andrea's mom took her to see the show at Wharton Center.
"They were so right. It is fantastic!"
But it was more than the show's clever lyrics that grabbed Andrea's attention.
"The experience itself was so engaging," she said. "We were in the ninth row, so it felt like we were IN the set. It was a powerful introduction to Wharton Center."
Finding her way in
Andrea wanted to start seeing more shows at Wharton Center, but as a single young professional, she didn't have a logical partner to go with her – or unlimited disposable income.
"Usually I would ask my friends, 'Which one of you likes theater?' and then I'd invite someone to go, buy two tickets, take them out for drinks before the show, and suddenly it was really expensive for me to see a show. I needed a more affordable option."
Enter [email protected]
"My roommate at the time had bought the ticket package and explained what it was," she said. "It sounded exactly like what I was looking for."
NextGen is sort of a VIP club for young professionals. The season package includes five shows with exclusive discounts in a block of prime Zone 1 seats. Each performance features a party with food, drinks, artist meet-ups and behind-the-scenes opportunities.
One big perk of buying the package as a single person is it instantly gives you a group of other young professionals to see shows with. No need to bribe friends to be your plus-one!
"I just didn't have the disposable income to pay for two tickets simply so I didn't have to go to a show alone," she said. "NextGen gave me that circle of people I was looking for – just for the cost of my ticket."
Once-in-a-lifetime opportunity
Her first NextGen show was the Tony Award® winning musical Once.
The show is set in an Irish pub, and Andrea – who'd studied in Ireland while at Michigan State – was excited to "revisit" the setting.
In the NextGen block she was seated next to Jill Rinckey, someone she knew peripherally through friends.
"At intermission, we were talking about the show, and Jill said, 'I just wonder, are Irish pubs really like that?' And I said, 'They are! Just like that!'"
Jill said she'd always wanted to travel to Ireland; Andrea told her she'd always wanted to go back.
That night, they set a plan in motion. Eight months later, they spent two weeks traveling around Ireland together.
"That remains my favorite NextGen experience," Andrea said.
Leading role
Today, Andrea co-chairs the [email protected] steering committee.
Her background in workforce development and talent retention reinforced the importance of this type of social opportunity in greater Lansing.
"A community is more than bricks and mortar, it's a presence, it's an experience. Wharton offers awesome things to experience," she said.
The fact that the season package offers a variety of shows – familiar titles as well as performances designed to stretch and expand people's horizons – is important, Andrea said. It also helps the steering committee grow the NextGen audience beyond lifelong musical theater fans.
"I'm not usually a fan of jazz," she said. "But we included the Hot Sardines in our lineup, and I was so impressed. It was a great show. I never would have been exposed to them if it wasn't for NextGen. That's why we can't just offer a package of Broadway musicals. Wharton offers so much more than that.
"It just kind of wows me."