Eloy Trevino Spotlight Story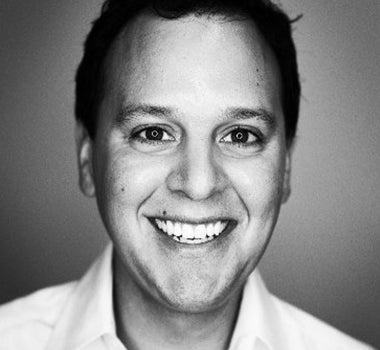 Eloy Trevino's life was changed when a chandelier nearly fell on his head.
That's only a slight exaggeration.
Eloy grew up in Lansing, and his early exposure to the performing arts consisted mostly of Shakespeare productions seen on middle school field trips.
"I remember thinking, 'How boring,' because you're being forced to watch something you don't want to see."
A few years later, when he was a student at Michigan State, Eloy's mom saved money to buy the family tickets to see The Phantom of the Opera at Wharton Center. They sat in the fourth row – which is how a chandelier nearly fell on his head. If you've never seen Phantom, it's a pivotal moment at the end of Act I.
"Suddenly, I thought of the performing arts very differently. I was quite interested," he said, chuckling.
Soon after, he saw a second musical – the bohemian rock opera Rent – and he was hooked.
"Those shows made me think, 'OK, the performing arts aren't what I thought they were.' I really liked it."
A budding theater fan
Eloy returned to MSU to earn his MBA before heading to Chicago to work in global management consulting for Accenture. His job frequently took him to theater's biggest districts.
"I continued to see as much theater as I possibly could," he said. "With Accenture, I was spending two, three, sometimes four nights a week in New York City, and then going back and forth to London. That afforded me the opportunity to see shows practically every week."
He was seeing the greatest Broadway and West End had to offer – everything from Hugh Jackman in The Boy from Oz and Bernadette Peters in a revival of Gypsy to Puff Daddy in A Raisin in the Sun.
"It was a pretty remarkable time," he recalled. "And from then on, it's been nothing but a complete lovefest with theater."
That love of theater that started at Wharton Center while he was a student at MSU came full-circle for Eloy in 2007 when he began working closely with Wharton's staff to establish an endowment fund honoring his parents. The Joe and Maggie Trevino Performing Arts Education Endowment supports dynamic programs and addresses barriers preventing attendance. Eloy established the fund to provide opportunities for young people – particularly MSU students – to experience the transformative power of live theater.
"The performing arts are an important component of culture, community and telling the human story – the story of us," he said.
Eloy said his parents' unwavering support of him and his two older brothers fueled his gift to Wharton Center. "They didn't have a whole lot of money when we were growing up, and they saved everything they could to send us to college," he said. "Honoring them this way was really, really important to me."
Merging passion and skills
While his connection to Wharton Center deepened, Eloy discovered another way he could help the center – with a large-scale rebranding.
While he was a partner at Prophet, a global brand strategy and consulting firm, he gathered a group of talented colleagues willing to take on a nearly yearlong pro bono project to re-invent the Wharton Center brand for the next generation of students and theater-goers.
"It's rare in life when your personal passions, professional skills and ability to have an impact all align," he said. "This was one of those moments."
With Wharton Center approaching its 35th anniversary, Eloy and his team spent months gathering input from Wharton's staff, leadership council, donors, ticket buyers and other stakeholders.
"A highlight of my career was interviewing Dr. and Mrs. Wharton about their vision," he said.
The result – a comprehensive reimagining of Wharton Center's brand positioning and identity – is being unveiled throughout the 2017-18 season. A key component of the new messaging is a focus on storytelling and impact.
"There's a renewed focus on arts education in the country, and Wharton Center plays a key role in that for Michigan," he said. "We need to tell that story. It's how we connect donors and patrons with the whole scope of what Wharton Center does."
Eloy said he hopes one of the key results of the rebranding project is that people think about Wharton Center as more than a place to see The Lion King or Wicked. "There are so many wonderful things coming to Wharton Center's stage, but there's also so much going on from an arts education and community perspective."
With Eloy's expertise, that is happening. There is no greater purpose than to help shape a community for the better. Through the performing arts and arts education, Wharton Center is committed to showcasing experiences that inspire the mind and move the soul.
Eloy says, "I believe if we all contribute what we can, in whatever way we can, the world around us will be a better place."