The Act One School Series provides curriculum-linked, performing arts enrichment activities for students in grades K-12.
We are delighted to present the 2020-2021 Act One School season as a series of virtual programs. Filmed plays, storytellers, and music by some of the best artists producing work for grades K-12 is available to you and your students FREE OF CHARGE.
Review the event descriptions below, determine what programs work for you, and submit the order form. You will receive a link to the performance accessible during its available time period which you can share with students working remotely or show in your classroom.
USING HIP HOP AND IMPROVISATION AS A TEACHING TOOL - A VIRTUAL WORKSHOP FOR TEACHERS

In response to your requests for arts professional development, we are offering an opportunity for teachers to spend time with two extraordinary teaching artists - Paige Hernandez and Sarah Hendrickson. Both Paige and Sarah will provide easy to replicate, fun and educational arts related tools you can use either in a live or virtual classroom. Paige will show you how to use hip hop as a teaching tool and Sarah will focus on theatrical games and improvisation. Each artist will provide a hands-on demonstration workshop followed by your questions. Interested teachers can sign up on the order form. You will be sent a zoom link to enter the workshop.

Tuesday, October 27, 2020
4pm to 6pm
Zoom
This workshop is FREE.

Bio: Sarah Hendrickson

Sarah Hendrickson is a proud alumnus of Michigan State University, receiving a Master of Arts in Theatre. Sarah has worked as a professional improviser, actress, instructor, and producer in Chicago performing with many theaters, including The Second City in their Music House ensemble and on Norwegian Cruise Line. She has facilitated workshops and performed in tailored comedy sketches for corporate clients including Yahoo!, Wells Fargo, and US Cellular. As a member of SAG/AFTRA, Sarah has appeared in TV commercials and as a recurring on-air personality for KRBK-FOX in vignettes, she wrote and produced. She has worked as a Casting Associate in Chicago at O'Connor Casting and in Detroit at Carrie Ray Casting for commercials, industrials, radio, television, and film. Sarah has also used her unique skill set as producer of shows and co-owner of Entertain You Productions. Sarah is also currently an Institute Teaching Artist for the Wharton Center Institute for Arts and Creativity.

Bio: Paige Hernandez

Paige Hernandez is a multidisciplinary artist who is critically acclaimed as a performer, director, choreographer, and playwright. As an AEA Equity actress, Paige has performed on many stages throughout the country. She has collaborated with the Lincoln Center and has been commission by several companies including the National New Play Network, the Smithsonian, The Kennedy Center, and the Glimmerglass Festival. She is the recipient of an Individual Artist Award from the Maryland State Arts Council as well as three Helen Hayes nominations for choreography and performance. Paige has also been named a "classroom hero" by the Huffington Post, a "Citizen Artist Fellow" with the Kennedy Center, "40 under 40" by the Washington Post, and one of "Six Theatre Workers You Should Know" by American Theatre Magazine. With her company B-FLY ENTERTAINMENT, Paige continues to develop and tour original work internationally. paigehernandez.com
STORIES AND SONGS IN THE ORAL TRADITION
FEATURING CHARLOTTE BLAKE ALSTON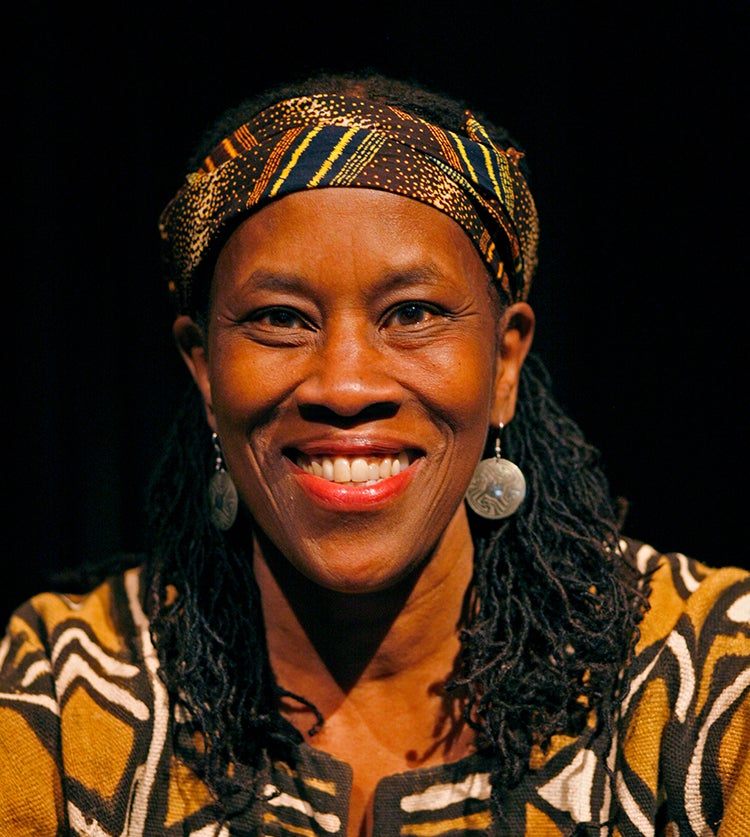 Charlotte will perform a series of entertaining, funny, and enlightening stories from a variety of African cultures appropriate for K-6.
She breathes life into traditional and contemporary stories from African and African American oral and cultural traditions. Her solo performances are often enhanced with traditional instruments such as djembe, mbira, shekere, or the 21-stringed kora. Her mesmerizing storytelling is full of humor, fun, and enlightenment.
Charlotte is a nationally acclaimed storyteller, narrator, instrumentalist, librettist, and singer who performs in venues throughout North America and abroad. She is the host of Sound All Around, the Philadelphia Orchestra's Preschool concert series, and has appeared as host or narrator on the orchestra's school and family concerts since 1991. She has been a featured host, storyteller, and narrator on the Carnegie Hall Family and School Concert series' since 1995. She has received numerous honors and awards including a Pew Fellowship in the Arts, the Commonwealth of Pennsylvania's Artist of the Year Award, the National Storytelling Network's Circle of Excellence Award, and the Zora Neale Hurston Award, the highest award given by the National Association of Black Storytellers.
November 9-13, 2020
Grades K-6
Virtual performance
Curriculum Connections: Music, Multi-cultural Studies, Literacy, Theatre, Geography
THE FISHERMAN AND THE FLOUNDER
FEATURING ENCHANTMENT THEATRE COMPANY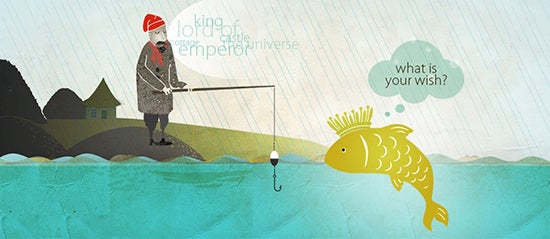 In Enchantment Theatre's telling of this classic Grimm fairy tale, a fisherman and his family live in a tiny hut by the sea. One day the fisherman catches a golden flounder who tells him that he is really an enchanted prince. The flounder begs to be set free and promises to give the fisherman whatever he wishes. The fisherman is amazed and releases the flounder without making a wish. When he tells his wife the story, she asks her husband to return to the flounder and ask for a cottage to replace their tiny hut. The flounder does her bidding, and the family is delighted with their new home.
Soon the wife tires of the cottage and asks for a castle. As the story continues, her wishes become more and more grandiose as she demands to be king and then emperor. When she finally wishes to be lord of the universe, the fisherman finds a way to restore his family to their true happiness and transform the magic flounder as well.
With expressive masks, life-size puppets, original music, and imaginative scenic effects, Enchantment Theatre brings this beloved tale to life in its uniquely magical way!
January 18-22, 2021
Grades K-5
Virtual performance
Curriculum Connections: Classic Literature, Language Arts, Inductive Reasoning from Observation of Non-Verbal Language, Justice and Forgiveness, Transformative Power of Loving Relationships
THE BOY WHO COULD SING PICTURES
FEATURING STORYTELLER DAVID GONZALEZ AND PIANIST DANIEL KELLY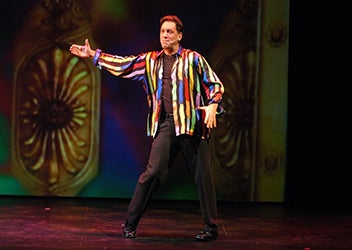 This production features two stories about empowering the voices of young people. In the first story, The Boy Who Could Sing Pictures, adapted from Seymour Leichman's book, we meet Luca, son of Bustelo-the-jester, who discovers that when he sings for people, spectacular pictures appear in the sky that reflect the truth of the world and people around him. The adventure follows Luca through a summer-long tour of surprises and wonders, and reaches a climax with the command for a royal performance and a fateful encounter with the evil ministers who fear that Luca's songs may reveal too much... Luca learns to trust his talents as he saves the day and the kingdom too!

In the second story, Nina Nails It, based on a Persian tale, a savvy girl teaches a wizard where his true heart resides. The performance features the music of Heitor Villa-Lobos and Astor Piazzolla, along with original compositions and arrangements by Daniel Kelly.
February 8-12 and 15-19, 2021
Grades 1-5
Virtual performance
Curriculum Connections: Literacy, Music, Theatre, Multi-cultural Studies
Sponsored by Arts Midwest Touring Fund, a program of Arts Midwest that is funded by the National Endowment for the Arts, with additional contributions from Michigan Council for Arts and Cultural Affairs and the Crane Group; Jackson National Life Insurance Company; Mercantile Bank; Michigan State Medical Society; TechSmith Corporation; and Wharton Center Inner Circle.
ALL THE WORLDS A SONG
FEATURING DANIEL KELLY AND HIS BAND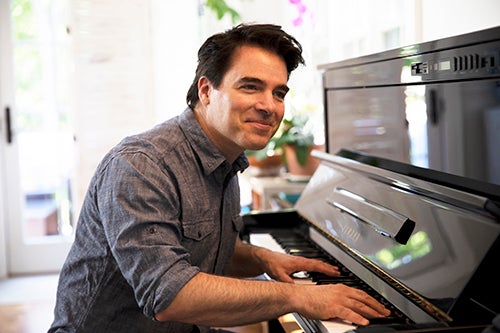 Shakespeare in Jazz: All the World's a Song is an engaging, participatory celebration of Shakespeare's work, offering an exciting new way to experience his genius. Great for those discovering his plays for the first time and for Shakespeare aficionados alike!
Throughout the concert, Daniel's jazz group perform catchy, original songs based on Midsummer Night's Dream, Twelfth Night, Macbeth, Hamlet, and many more!
Daniel Kelly is a composer and pianist who has been called "stunningly original" with "a visionary imagination." His music draws inspiration from literature, visual art, and journalism, captivating audiences across the country. A prolific composer and tireless musical explorer, Kelly continually seeks out new avenues for his creativity.
March 8-12, 2021
Grades 9-12
Virtual performance
Curriculum Connections: Music, Literacy, History, Psychology
THE BREMEN TOWN MUSICIANS
FEATURING ENCHANTMENT THEATRE COMPANY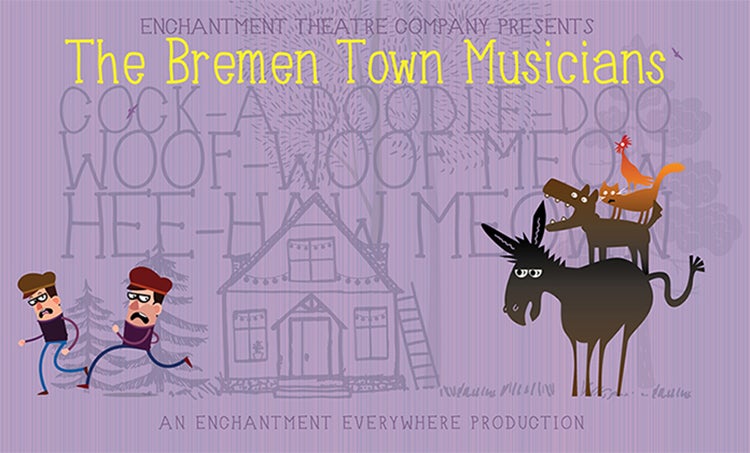 A kindly old donkey runs away from the farmer who wants to trade him in. A lazy cat is kicked out of her home because she won't catch mice. A rooster flies away from the farm where he's about to be cooked for dinner. When these three down-and-out animals meet on the road, they decide to band together and become musicians. As they make their way to the town of Bremen, they encounter an old lady, her dog, and two robbers. Using ingenuity, courage, and their unique talents, they scare off the robbers and find a loving family and a happy home. Based on the classic Grimm's fairy tale, this delightful story about discovering one's purpose and creating community is as fresh and meaningful today as it was 200 hundred years ago.
April 19-24, 2021
Grades K-5
Virtual performance
Curriculum Connections: Language Arts – Creative Writing as storytelling with a focus on the concepts of imagination, creativity, and problem-solving; compare & contrast different versions of a classic story
FOLKTALES WITH STORYTELLER LUANN ADAMS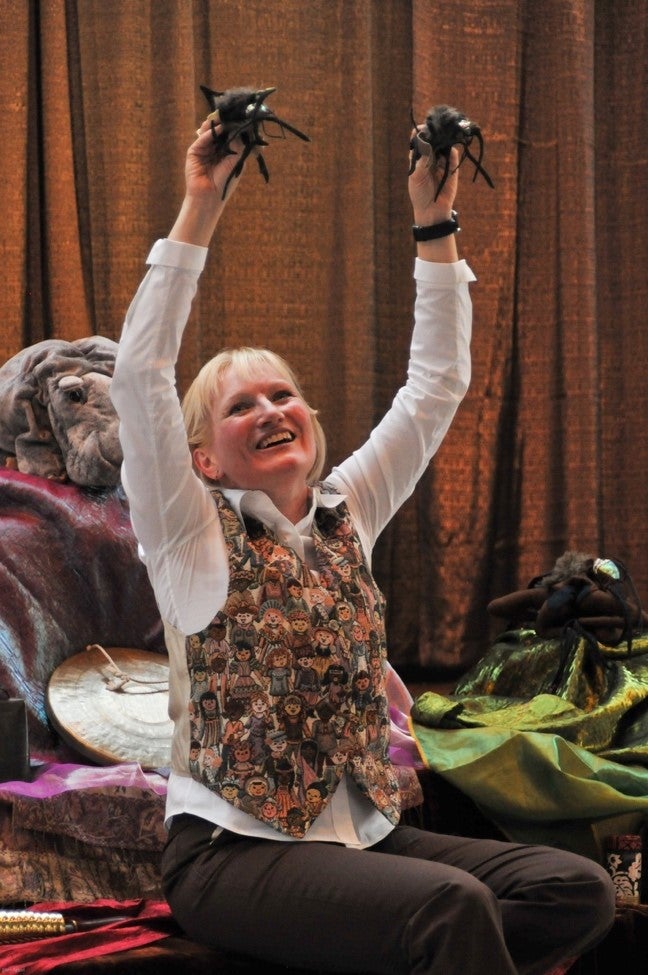 Storyteller LuAnn Adams performs four unique programs that celebrate children and the things that are important to them.
Tales from Dr. Seuss!
This program consists of 4 Dr. Seuss Tales with props, rollicking audience participation, and more!
Celebratin' Children!
LuAnn performs stories from around the world about 'can-do' kids, who are creative independent young people who think 'out of the box', as well as are 'uniters', who help others, their families, and communities to build a happier and even better world.
Treasures of the Heart
LuAnn's most often booked program. It consists of multi-cultural stories celebrating things that children and families all over the world treasure: food, friendship, stories, environment, and more!
Jaws, Paws & Claws – Animal Wisdom Tales
For animal lovers, these stories consist of multi-cultural animal wisdom tales of love, laughter, conflict-resolution, and shared respect for all the creatures of the Earth.
May 10-14 2021
Grades pre-K-3
Virtual performance
Curriculum Connections: Literacy, Theatre, Multi-cultural Studies
---
The 2020-2021 Act One School Series is sponsored by Jackson National Life Insurance Company; Mercantile Bank; Michigan State Medical Society; TechSmith Corporation; and Wharton Center Inner Circle.