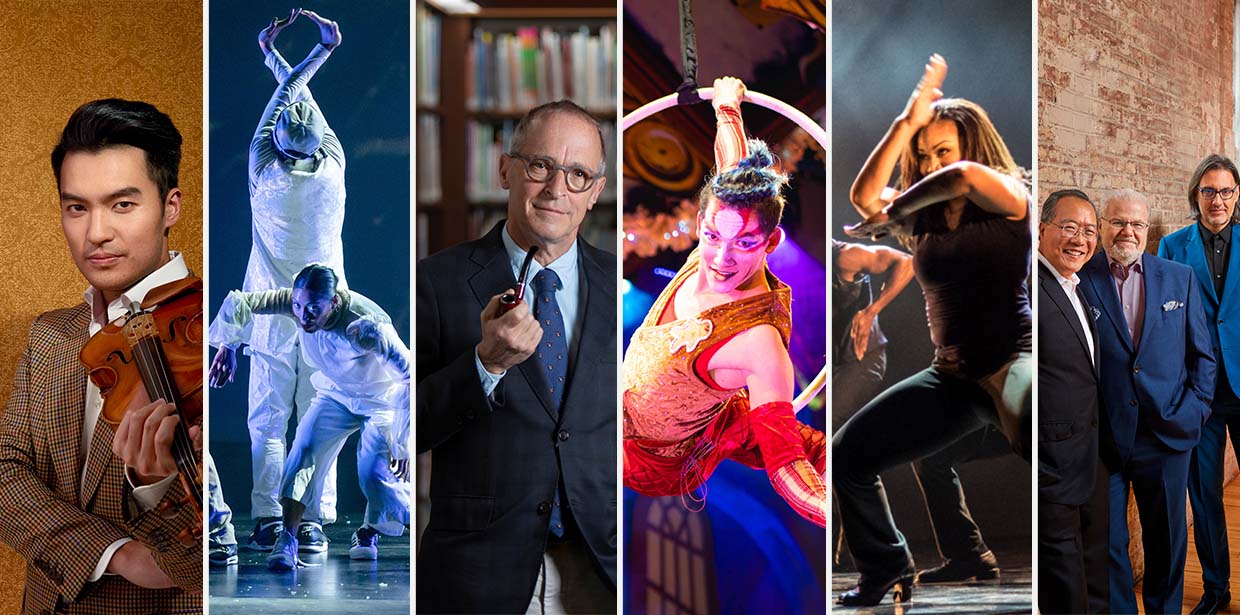 May

1

, 2023
The 2023-2024 Performing Arts Season
Yo-Yo Ma, Step Afrika!, Cirque Dreams Holidaze, The Hip Hop Nutcracker, Ray Chen, and more
It's one of the most anticipated times of the year at Wharton Center: the announcement of the new Performing Arts season.
This season, cello icon Yo-Yo Ma, Grammy-winning pianist Emanuel Ax, and violin wonder Leonidas Kavakos return by demand to Wharton Center for an intimate all-Beethoven performance. "I can't imagine a more perfect performance than the one I experienced," said MassLive of the trio. Superstar violinist Ray Chen makes his Wharton Center debut with a night of Bach and more. Of Chen's performance, The Times London said, "Colors dance, moods swing, and Chen's artistry blazes."
Step Afrika! blends percussive dance styles with songs, storytelling, and humor for a heart-pounding experience. An enchanting story for all ages, the World Series Ballet brings the beloved story ballet Cinderella to life, infused with a wonderful dose of humor and the promise of "happily ever after."
Filled with outrageously funny tales, heartfelt accounts, empowerment, and homespun wisdom, Dixie's Tupperware Party is "not your grandmother's Tupperware Party!" (NBC Today show). David Sedaris is one of America's pre-eminent humor writers, a master of satire, and one of today's most observant writers. Cirque Dreams Holidaze dazzles with a brilliant and whimsical family holiday spectacular. In Air Play, umbrellas fly, fabrics soar over the audience, balloons swallow people, and snow swirls, filling the stage with joy and wonder. New this season is Club 750: an intimate music club-style atmosphere with cocktails, table seating, and performances by Martha Redbone, PUBLIQuartet, and more.
Wharton Center's 2023–2024 season includes Sensory-Friendly Performances (SFPs). These events provide supportive and welcoming environments for people with autism spectrum disorders and other sensory sensitivities. Audiences will also be able to engage in popular Insight Previews and After Chats for many of this year's performances.
The entire season can be found at whartonseason.com. Performing Arts subscription sales begin Monday, May 1. By subscribing to a series package, consisting of at least five Performing Arts events, patrons receive priority seating ahead of the public, the best seats in the house, subscriber-only discounted rates, payment plan options (new this season), and more. Individual tickets will go on sale later this summer.
CLASSICAL EVENTS
Emanuel Ax, Leonidas Kavakos, Yo-Yo Ma, Wed, Jan 31, 2024
Ray Chen, Sat, Mar 16, 2024
Detroit Symphony Orchestra: Mozart & The Seasons, Thurs, May 2, 2024
DANCE EVENTS
World Ballet Series: Cinderella, Tues, Oct 10, 2023
Step Afrika!, Sat, Mar 9, 2024
THEATRE EVENTS
The Acting Company: The Odyssey, Sat, Oct 28 – Sun, Oct 29, 2023
JAZZ EVENTS
When You Wish Upon A Star, Wed, Oct 18, 2023
Maria Schneider Orchestra, Fri, Feb 23, 2024
Catherine Russell, Tues, Apr 16, 2024
CLUB 750 EVENTS
Gabriel Royal, Thurs, Nov 9, 2023
Immanuel Wilkins Quartet, Fri, Dec 8, 2023
Martha Redbone Roots Project, Thurs, Feb 15, 2024
PUBLIQuartet: What Is American, Thurs, Apr 25, 2024
VARIETY EVENTS
Mandy Gonzalez: Fearless, Wed, Sept 20, 2023
Dixie's Tupperware Party, Thurs, Oct 19 – Fri, Oct 20, 2023
David Sedaris, Tues, Oct 24, 2023
Harry Potter and the Sorcerer's Stone in Concert with Lansing Symphony Orchestra, Fri, Nov 17, 2023
The Hip Hop Nutcracker, Wed, Dec 6, 2023
Voctave – The Spirit of the Season, Tues, Dec 12, 2023
Cirque Dreams Holidaze, Mon, Dec 18 – Wed, Dec 20, 2023
Air Play, Fri, Jan 26, 2024
Small Island Big Song, Thurs, Mar 21, 2024
ACT ONE FAMILY EVENTS
Cat Kid Comic Club: The Musical, Sat, Oct 14, 2023
The Boy Who Cried Wolf, Sat, Feb 24, 2024
123 Andrés, Sat, Apr 20, 2024