Todd Tuchek Spotlight Story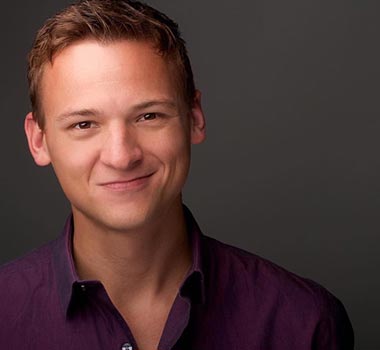 Todd Tuchek vividly recalls sitting the front row of the Wharton Center balcony, eyes wide, mesmerized by the national tour of Beauty and the Beast.
He was 6.
"I distinctly remember asking my mom after the show, 'Those people got PAID? That's their JOB?'" he said, laughing. "It was the first moment I felt fully engaged. I couldn't stop thinking about it."
From that day in 1999, his mind was set on being part of that magic. He didn't understand it yet, but he was yearning to be a storyteller.
Todd never had a Plan B.
"I realized from a very young age that theater, acting, performing was where I felt most comfortable. It's where I found out the most about myself," he said. "Wharton Center introduced me to that."
Even at that young age, Todd looked for every opportunity he could find to grow as a performer. He attended Camp Broadway in New York. He took dance classes. He was cast as young Wally Webb in BoarsHead Theater's production of Our Town when he was 10.
All the while, his family kept returning to Wharton Center to see the big Broadway shows each year. "I'm very blessed to have grown up with an institution like Wharton Center in my backyard," he said. "It kept fueling my fire."
Broadway pros come to town
In 2008, an incredible, unique opportunity arrived at Wharton Center.
"It was shortly after MTV aired Legally Blonde: The Musical, and my friends and I were obsessed with watching it," Todd remembers. "We couldn't believe there was a Broadway musical on television!"
Todd's mother, Kristine Holden Tuchek, heard about Wharton Center's new Take It From The Top program. The Broadway star of Legally Blonde, Laura Bell Bundy, and her co-star Paul Canaan were coming to East Lansing to teach kids about being on Broadway.
Kristine called Todd immediately.
"I remember thinking, 'No way! They're coming from New York City to East Lansing?'" Todd enrolled immediately and was one of 12 students in the inaugural high school program.
The week-long interactive workshop blended arts and education into an incredibly rare and meaningful experience, giving the aspiring stars unprecedented access to Broadway professionals and, invaluably, their feedback and perspective about life in the theater.
Todd participated in the program for five years and now helps coordinate it.
"If I hadn't done Take It From The Top, I wouldn't have seen a way I could become a professional performer. It made it real for me. And now it's important to be to be able to give back," Todd said.
Todd graduated from Okemos High School and went on to study musical theater at Western Michigan University. A year ago, he was cast in the Theatreworks USA national tour of The Lightning Thief: The Percy Jackson Musical. The job earned him a coveted Actors' Equity card.
This summer, Todd began working toward master's in entertainment industry management at Carnegie Mellon University in Pittsburgh.
"Musical theater and storytelling have given me a very large world view from inside a small community," Todd said. "It's taught me history and it's made me a better citizen. It's given me a better sense of myself.
"That's what I love about stories, and it's why I feel so lucky to have the Wharton Center in my life."