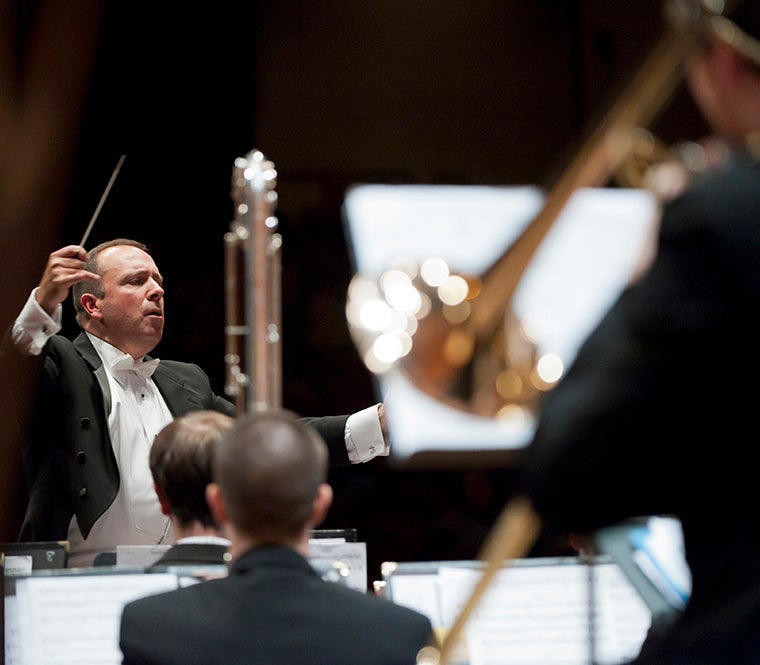 Apr
30
, 2022
Cobb Great Hall
150th Anniversary Celebration of Bands
MSU College of Music
Apr
30
, 2022
Cobb Great Hall
150th Anniversary Celebration of Bands
MSU College of Music
Celebrating 150 years of bands at MSU, this grand concert features all three ensembles. The program presents a variety of works, including world premieres.
Generously sponsored by Merritt Lutz.
Guest artists
Aaron Perrine, composer; Ivette Herryman-Rodriguez, composer; Jordan Lulloff, saxophone soloist
MSU artists
Joseph Lulloff, saxophone soloist; Zhou Tian, composer
Concert Band
Program includes Anti-Fanfare for Wind Ensemble Minus Brass by Andrew Blair, Stillwater for Wind Ensemble by Kelijah Dunton, and The Long Light After Time (World premiere) by Aaron Perrine.
Symphony Band
Program includes En Mi, Familia (World premiere) by Ivette Herryman-Rodriguez, and Bells for Stokowski by Michael Daugherty.
Wind Symphony
Program includes Marche Electrique by Giuseppe Creatore, Scherzo Furioso by Jordan Gudefin with soloists Joseph Lulloff and Jordan Lulloff, Colonial Song by Percy Grainger, and Sinfonia for Wind Ensemble (World premiere) by Zhou Tian.
Covid-19 Protocols

As of March 6, 2022, there are no required COVID-19 protocols.

Patrons are welcome to wear masks, but it is not required.
Proof of COVID-19 vaccination or negative test is also no longer required.

Protocols can change at anytime and ticket holders are requested to check again for up to date requirements closer to the event date.

Refunds
If a patron becomes ill, they may contact the Ticket Office for a refund up to three days prior to the scheduled event.