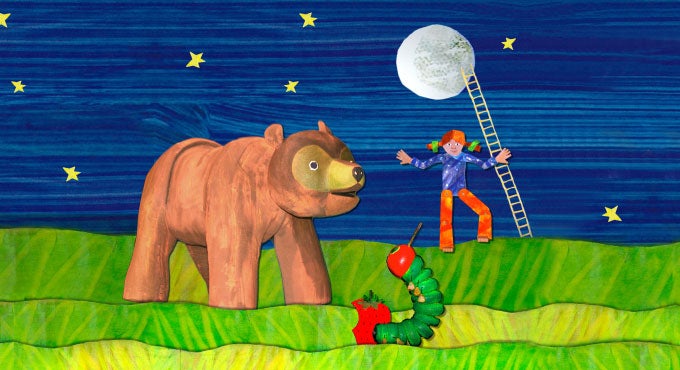 Feb
4
, 2017
Pasant Theatre
A BROWN BEAR, A MOON, & A CATERPILLAR
TREASURED STORIES BY ERIC CARLE, FEATURING MERMAID THEATRE OF NOVA SCOTIA
Feb
4
, 2017
Pasant Theatre
A BROWN BEAR, A MOON, & A CATERPILLAR
TREASURED STORIES BY ERIC CARLE, FEATURING MERMAID THEATRE OF NOVA SCOTIA
Nova Scotia's Mermaid Theatre, one of North America's premier touring puppetry companies, uses stunning music, spectacular black light visual effects and innovative puppetry to bring together old favorites and new friends from three of Eric Carle's famous stories. In this composite of storybook favorites, The Very Hungry Caterpillar joins a whimsical menagerie drawn from the pages of Brown Bear, Brown Bear, What Do You See? The heartwarming father-and-daughter quest for an unusual plaything, Papa, Please Get the Moon For Me, completes a fanciful hour-long production that is "mesmerizing," "vivid" and "uniquely told" (The New York Times).
"Even kids unfamiliar with Carle's canon remain rapt, thanks in large part to the dramatic lighting, those glowing sets and the handiwork of (just) two puppeteers." –Time Out Chicago
Recommended for ages 3-8
Sponsored by Michigan Council for Arts and Cultural Affairs, the National Endowment for the Arts, and Jackson National Life Insurance Company; and Sutton Advisors, PLC.
Media Sponsor: WKAR.