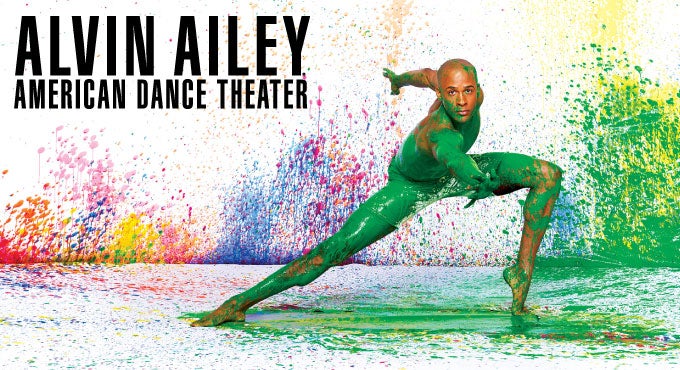 Apr
18
, 2017
Cobb Great Hall
Alvin Ailey American Dance Theater
ROBERT BATTLE, ARTISTIC DIRECTOR MASAZUMI CHAYA, ASSOCIATE ARTISTIC DIRECTOR
Apr
18
, 2017
Cobb Great Hall
Alvin Ailey American Dance Theater
ROBERT BATTLE, ARTISTIC DIRECTOR MASAZUMI CHAYA, ASSOCIATE ARTISTIC DIRECTOR
"Be prepared for two things: a continued devotion to tradition, but also big, refreshing surprises." –Chicago Tribune
"Unbelievable. Go see Ailey. It's change-your-life good." –NBC's TODAY
Experience for yourself why people say, "You don't just see an Ailey performance, you feel it." Engage your emotions when Alvin Ailey American Dance Theater, the world's most popular modern dance company, comes to the Wharton Center for one night only. The diverse program includes Rennie Harris' electrifying Exodus with his signature house dance moves, Ronald K. Brown's sultry Open Door set to Afro-Cuban music, Christopher Wheeldon's After the Rain Pas de Deux, a contemporary ballet crowd favorite, and Alvin Ailey's 1960 beloved masterpiece Revelations, which feels more timely than ever.
The performance is 2 hours which includes two 15 minute intermissions.
Latecomers: At the artist's request, there will be no seating during dance pieces. The first piece is 20 minutes. Latecomers will be seated at intermission and pauses only. Patrons can view the performance on the lobby TV monitors during these times.

There will be a Spotlight Dinner available prior to the performance on Tuesday, April 18 at 5:45p.m. for $55 per guest.
Sponsored by Piper & Gold Public Relations.
Media Sponsor: Michigan Radio.
Additional Ticket Information

The performance is 2 hours which includes two 15 minute intermissions.

Latecomers: At the artist's request, there will be no seating during dance pieces. The first piece is 20 minutes. Latecomers will be seated at intermission and pauses only. Patrons can view the performance on the lobby TV monitors during these times.

Group Information

Contact our Group Sales Dept. for Group Rates at 517.884.3130