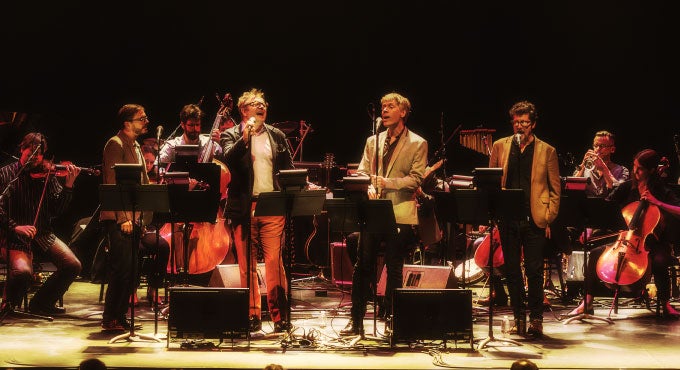 Oct
6
, 2016
Cobb Great Hall
ART OF TIME ENSEMBLE
SGT. PEPPER'S LONELY HEARTS CLUB BAND
Oct
6
, 2016
Cobb Great Hall
ART OF TIME ENSEMBLE
SGT. PEPPER'S LONELY HEARTS CLUB BAND
Steven Page (founder and former lead of the iconic band Barenaked Ladies) and Wesley Stace (AKA John Wesley Harding) join singers Andy Maize (Skydiggers) and Craig Northey (The Odds) in a re-imagining of the Beatles' groundbreaking album Sgt. Pepper's Lonely Hearts Club Band. Led by internationally renowned concert pianist Andrew Burashko, Toronto's Art of Time Ensemble has, for over 15 years, fused high art and popular culture in programs that juxtapose the best of each genre. Art of Time entertains as it enlightens, revealing the universal qualities that lie at the heart of great music. The singers and world-class orchestra collaborate for an incredible night of music. Songs including "Lucy in the Sky with Diamonds," "When I'm Sixty-Four" and "With a Little Help From My Friends" are re-imagined in arrangements that affectionately celebrate the music while preserving the vocal harmonies and musical elements that earned its designation by Rolling Stone as "the most important rock and roll album ever made."
This program will run approximately 1 hour 45 minutes. There will be a 20-minute intermission as the record is flipped.

There will be an Insight Preview before the performance starting at 6:45, featuring Andrew Burashko and Wesley Stace (aka John Wesley Harding)
Sponsored by Brogan, Reed, Van Gorder & Associates/Ohio Financial Services; Foresight Group; and White, Schneider, Young & Chiodini P.C.
Media Sponsor: Michigan Radio.
Additional Ticket Information

Group Information

Contact our Group Sales Dept. for Group Rates at 517.884.3130