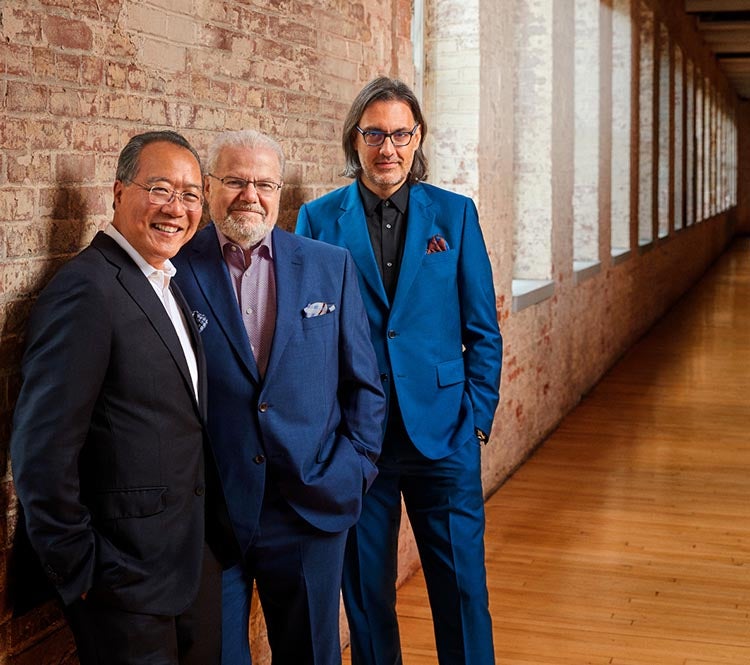 Jan
31
, 2024
Cobb Great Hall
EMANUEL AX, LEONIDAS KAVAKOS, YO-YO MA
Jan
31
, 2024
Cobb Great Hall
EMANUEL AX, LEONIDAS KAVAKOS, YO-YO MA
All-Beethoven program
"I can't imagine a more perfect performance than the one I experienced." —MassLive
"Who needs an orchestra when you have this Beethoven supergroup?" —The Times, London
Cello icon Yo-Yo Ma, Grammy-winning pianist Emanuel Ax, and violin wonder Leonidas Kavakos return by demand for an intimate all-Beethoven performance. Emanuel Ax is known for his "thoughtful, lyrical, lustrous" pianism (The Washington Post), "strong on bravura, [and] ravishing in finesse" (The Guardian). Leonidas Kavakos, "a spectacular artist" (Philadelphia Inquirer), lauded for his matchless technique and artistry. Yo-Yo Ma is one of the most prolific artists in the world, brilliantly collaborating across several genres. Ma's "performances are wonderfully eloquent and sophisticated" (Los Angeles Times), marked with "beautifully calibrated dynamic detailing" (Chicago Classical Review). Last performing to a sold-out crowd at Wharton Center; don't miss the return of this "super trio," sure to be a highlight of the season.
Beethoven
Trio in D Major, Op. 70. No. 1, "Ghost"
Symphony No. 1 (arr. Shai Wosner)
Piano Trio in E-flat Major, Op. 70, No. 2
Media sponsor: WKAR
Age and Content Warnings

Recommended for ages 5 and up.