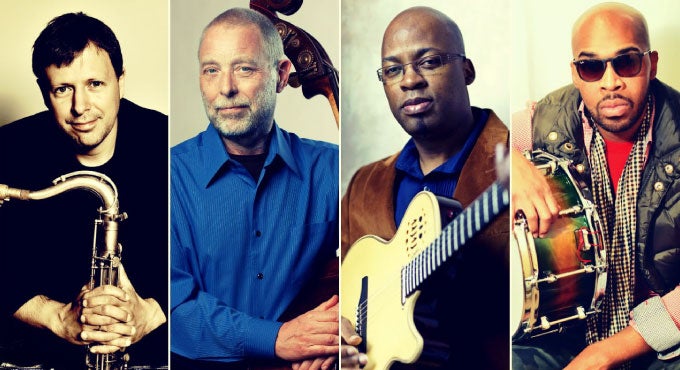 Oct
20
, 2016
Cobb Great Hall
AZIZA
FEATURING DAVE HOLLAND, CHRIS POTTER, LIONEL LOUEKE AND ERIC HARLAND
Oct
20
, 2016
Cobb Great Hall
AZIZA
FEATURING DAVE HOLLAND, CHRIS POTTER, LIONEL LOUEKE AND ERIC HARLAND
A veritable dream team makes up this quartet for a night of sizzling jazz with four amazing musicians – each with jazz street cred in spades! Beginning with legendary jazz bassist Dave Holland, who came from his native England to play with Miles Davis and went on become a formidable bandleader himself and defined the best in jazz over the last few decades. Saxophonist Chris Potter, a frequent Holland collaborator, was called "One of the most studied (and copied) saxophonists on the planet" by Downbeat magazine. West African-born guitarist Lionel Loueke melds African guitar traditions with jazz harmony for a sound unlike any other. And widely known as one of the best jazz drummers on the scene, Eric Harland rounds out this incredible group. Together, these four powerhouses create an evening of earth-shattering, soul-changing rhythms and beats. Jazz was never so intensely stirring as it has been since their arrival on the scene – reinterpreting history and projecting an intensely original flair onto a genre that has altered beneath their impressive touch. Don't miss out on the quartet of the century – the concert experience that will be talked about for years to come.
Program to be announced from the stage. This evening's performance will be approximately 90 minutes, and will not include an intermission.
Media Sponsor: WKAR.
Additional Ticket Information