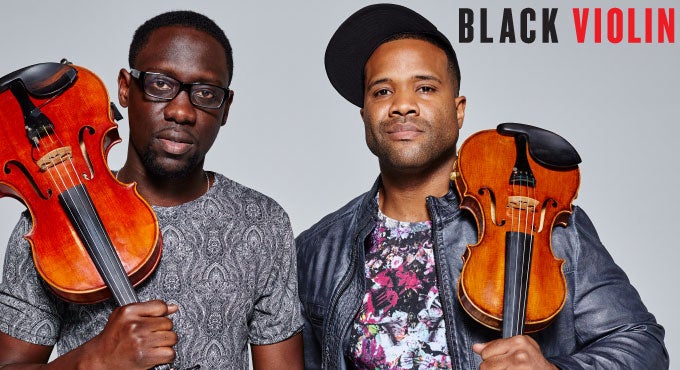 Feb
17
, 2017
Cobb Great Hall
BLACK VIOLIN
Feb
17
, 2017
Cobb Great Hall
BLACK VIOLIN
Wilner Wil B Baptiste (viola) and Kevin Kev Marcus Sylvester (violin) are Black Violin, a duo who radically fuse classical, hip-hop, rock, bluegrass, R&B and pop to create a unique generation-defying, groundbreaking sound. Joined on stage by a drummer and DJ, they were named the hottest band at SXSW in 2013. This South Florida hip-hop, Brahms-playing quartet has collaborated with the likes of P. Diddy, Kanye West, 50 Cent, Tom Petty, Aerosmith, Aretha Franklin and The Eagles. After winning over the Apollo in a smash performance, cementing their hard-earned position in pop culture, Black Violin has engaged audiences with a fresh take on a classic style. Always bold, eternally profound, Black Violin transports and entertains in a way that has never been seen on stage before and may never be seen again. A swagger unheard-of in the classical genre, their breathtaking repertoire features everything from Ed Sheeran's "Thinking Out Loud" to "Alright" by Kendrick Lamar. Less a concert, more so a block party, Black Violin knows the meaning of an outrageously good time. Don't miss an evening that is sure to surprise and delight you!
Run Time: Approximately 90 minutes with no intermission.
Media Sponsor: Michigan Radio.
Additional Ticket Information

Run Time: Approximately 90 minutes with no intermission.

Group Information

Contact our Group Sales Dept. for Group Rates at 517.884.3130