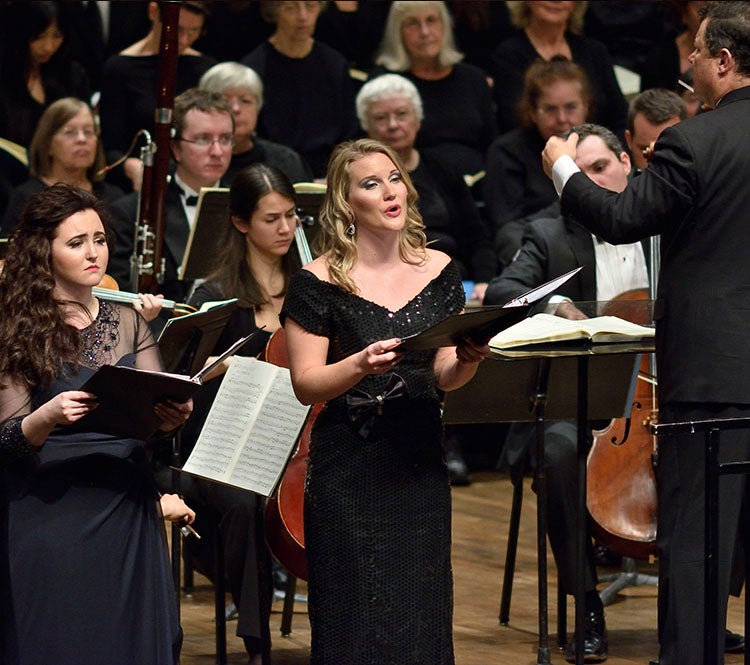 Dec
4
, 2021
Cobb Great Hall
Songs of Comfort and Joy
MSU College of Music
Dec
4
, 2021
Cobb Great Hall
Songs of Comfort and Joy
MSU College of Music
Join us for a celebratory return of choral singing as members of MSU Choral Union, University Chorale, and State Singers join the MSU Symphony Orchestra for a concert of inspiring and uplifting music.
The program features "Hallelujah" and other favorites from Handel's Messiah plus perennial choral-orchestral selections including "Thanks be to God" from Mendelssohn's Elijah, "Cantique de Jean Racine" by Fauré, "How lovely is thy dwelling place" by Brahms, Mozart's "Ave verum corpus," and "Dona nobis pacem" by J.S. Bach.
David Rayl, conductor.
Part of the MSU Federal Credit Union Showcase Series. Generously sponsored by Provost Teresa K. Woodruff, Ph.D., and Thomas V. O'Halloran, Ph.D., and a donor family with the hope that you enjoy the concert and reflect upon its message of peace and joy.
Covid-19 Protocols

Masks, regardless of vaccination status, are required indoors for the duration of the performance.

---

COVID-19 related health protocols may be in effect at the time of performance, including some or all of the following, without limitation, required: mask or face coverings, proof of full vaccination for COVID-19 or proof of a negative COVID-19 Test (within 24-72 hours prior to show time), temperature checks, or confirmation of no known symptoms of and exposure to COVID-19. We reserve the right to unilaterally make changes to health protocols according to updated public health guidance, law, or regulations of MSU Administration. Any visitors, including ticket holders who do not comply with any COVID-19 related health protocol, may be required to leave the theater, and their ticket will not be refunded.