Jan
18
, 2022
Cobb Great Hall
Our Song, Our Story
The New Generation of Black Voices
An evening of music highlighting some of the world's most well-known arias, art songs, and spirituals. The concert brings together two of today's most exciting operatic voices, Brandie Sutton and Raehann Bryce-Davis, in a diverse and powerful event. Created and directed by composer, conductor, and multi-genre musician Damien Sneed in a performance honoring MLK and MLK Day.
---
Sponsored by MSU Federal Credit Union with additional support from Jackson National Life Insurance Company.
Media Sponsor WKAR.
COVID-19 Protocols

Updated as of January 1, 2022. Safety requirements in place at Wharton Center:

Proof of vaccinations or negative test for ages 12 and older.

Provide proof of vaccination by showing an original vaccination card, a copy of the card or a digital photo on a smartphone, AND a photo ID, such as a driver's license or passport.
Unvaccinated patrons must show a negative COVID-19 test. Your test must list the results, a time stamp within 72 hours before your performance time, your name AND be presented with a photo ID.
Michigan State University students, faculty and staff can show their University ID as proof of compliance with the university's vaccine mandate.

Wearing of masks indoors, regardless of vaccination status, for the duration of the performance.

Refunds
Contact the ticket office by email or phone for information on how to proceed.

Jackson Donor Lounge

Welcome to the Jackson Donor Lounge. As we welcome back our artists, audiences, staff and volunteers, health and safety remain our number one priority. We continue to review our policies and thank you in advance for your cooperation so we can safely continue to gather for live performances.

We are currently opening the lounge 90 minutes prior to the performance. Masks are required at all times while inside any MSU facility. For this reason we are limiting our refreshments to water, coffee and individually wrapped single serve sweets. Masks may be briefly removed while eating or drinking. We ask that no food or beverages be removed from the lounge. Thank you.

Run Time and Program

Performance Run Time: 90 minutes with no intermission

Program:

OPENING

Evocation (for solo piano)
Hale Smith (Black composer)

SPIRITUALS

In That Great Getting Up Morning
Traditional spiritual arr. by Damien Sneed

Ride On King Jesus
Hall Johnson (Black composer)
Traditional spiritual arr. by Damien Sneed

Lord How Come Me Here
Traditional spiritual arr. by Brandie Sutton

Hold On
Traditional spiritual arr. by Ramon Braxton (Black composer) & Damien Sneed

Scandalized My Name
Traditional spiritual arr. by Damien Sneed

ART SONGS

The Earth Sings song cycle
based on James Weldon Johnson
Damien Sneed (Black composer)
World Premiere commissioned by The ASCAP Foundation Charles Kingsford Fund

Chanson Perpetuelle
Sneed, Bryce-Davis

Widmung
Robert Schumann

Morgen
Richard Strauss

Till I Wake
Harry T. Burleigh (Black composer)

String Quartet, No. 1 "Calvary"—Allegro
Coleridge-Taylor Perkinson(Black composer)

OPERA ARIAS & DUETS

Vieni o tu che ognor io chiamo
from Caterina Ornaro
Gaetano Donizetti

O Don Fatale
from Don Carlos
Giuseppe Verdi

I Am Moses the Liberator
from Harriet Tubman
Nkeiru Okoye (Black composer)

I Was A Constant Faithful Wife
from The Bear
William Walton

Belle nuit (Barcarolle)
from Le Contes D'Hoffmann
Jacques Offenbach

BLACK COMPOSERS

We Wear The Mask
B.E. Boykin

Nobody's Business
Peter Ashbourne arr. by Damien Sneed

In A Sentimental Mood
Duke Ellington

He's Got The Whole World In His Hands
Traditional spiritual arr. by Damien Sneed

Group Information

Groups tickets are available for groups of 10 or more.
YOU MAY
ALSO ENJOY: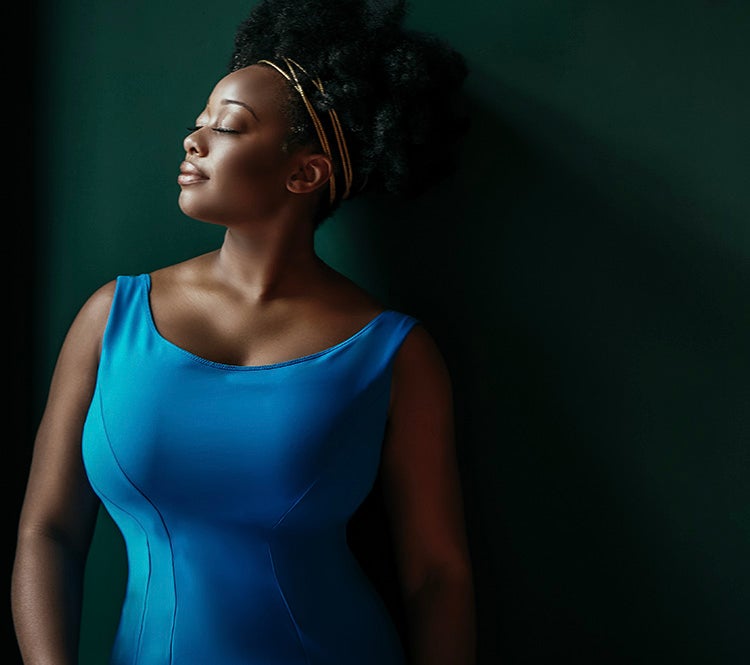 Songs From The Minds Of Women