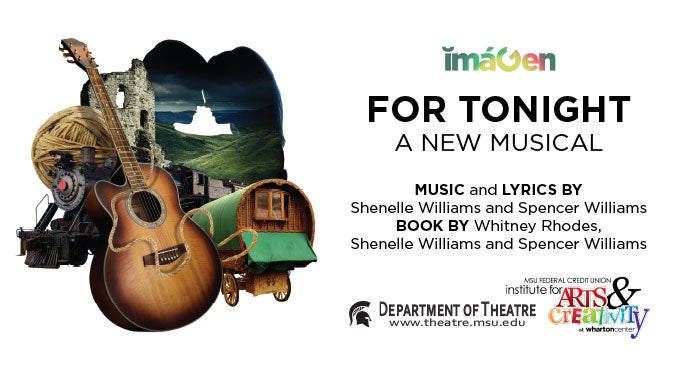 Oct
23
-
24
, 2015
Pasant Theatre
ĭmáGen: For Tonight
A New Musical
Oct
23
-
24
, 2015
Pasant Theatre
ĭmáGen: For Tonight
A New Musical
For Tonight, A New Musical
Book by Whitney Rhodes, Shenelle Williams and Spencer Williams
Music & Lyrics by Shenelle Williams and Spencer Williams
Will you be my home?
An indie-rock/folk love story centered on universal themes of family ties, loyalty and acceptance, three siblings seek to find themselves, inspired by the gypsies who once shared their home.
Showcasing Broadway stars, local high school and MSU Musical Theatre and Dance students on the same stage, the hugely successful collaborative venture enters its second year with the MSUFCU Institute for Arts & Creativity at Wharton Center and MSU College of Arts and Letters' Department of Theatre.
Directed by Joe Barros
Musical Direction by Dave Wendelberger