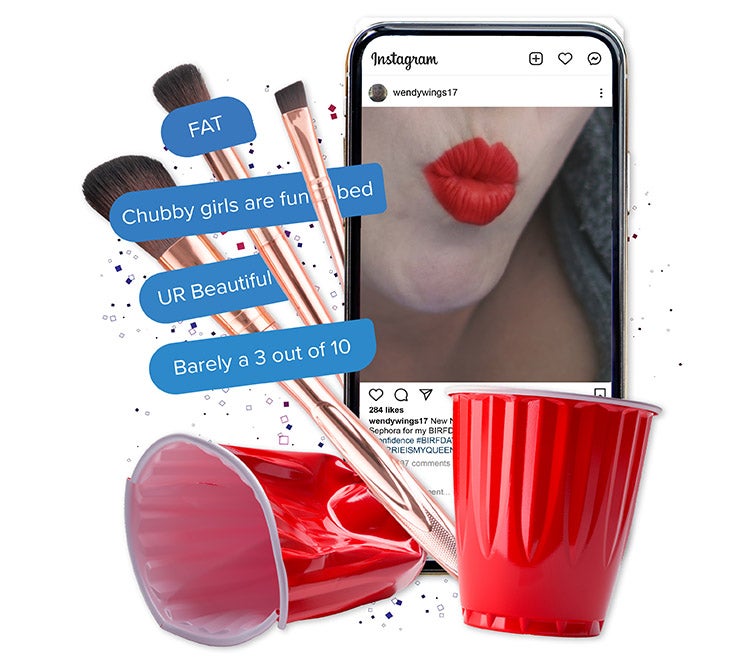 Nov
12
-
21
, 2021
Arena Theatre
Wendy and the Neckbeards
MSU Department of Theatre
Nov
12
-
21
, 2021
Arena Theatre
Wendy and the Neckbeards
MSU Department of Theatre
Written by Kari Bentley-Quinn
Directed by Claire Wilcher
A modern, dark comedy that follows the interconnected stories of body-positive wannabe influencer Wendy, her internet trolls, and the real people behind the awful comments we all read on Instagram in an examination of the current era of internet harassment, toxic masculinity, and the cycle of abuse towards women in America.
Pre and post show discussions

Director Pre-Show Discussion Sunday, November 14, 2021, at 1:15pm

Post-show discussion on Thursday, November 18, 2021, following the performance

Arena Theatre Ticket Office

The ticket office at the Arena Theatre opens one hour prior to the show with doors opening 30 minutes prior. It will close 5 minutes after the posted start time as late seating beyond that point will disrupt the performers and fellow audience members.

Covid-19 Protocols

Masks, regardless of vaccination status, are required indoors for the duration of the performance.

---

COVID-19 related health protocols may be in effect at the time of performance, including some or all of the following, without limitation, required: mask or face coverings, proof of full vaccination for COVID-19 or proof of a negative COVID-19 Test (within 24-72 hours prior to show time), temperature checks, or confirmation of no known symptoms of and exposure to COVID-19. We reserve the right to unilaterally make changes to health protocols according to updated public health guidance, law, or regulations of MSU Administration. Any visitors, including ticket holders who do not comply with any COVID-19 related health protocol, may be required to leave the theater, and their ticket will not be refunded.

Run time and Content Notice

Run time: 2 hours, 15 minutes (includes 15 minute intermission)
There will be no late seating.

Content Notice: strong language, references to sexual assault, misogyny.

Traffic Alert

Due to a 5pm Basketball game and an 8pm Hockey game, we anticipate high volume of traffic between 6:30pm and 8pm. It is recommended patrons avoid Trowbridge Rd and Kalamazoo Rd.