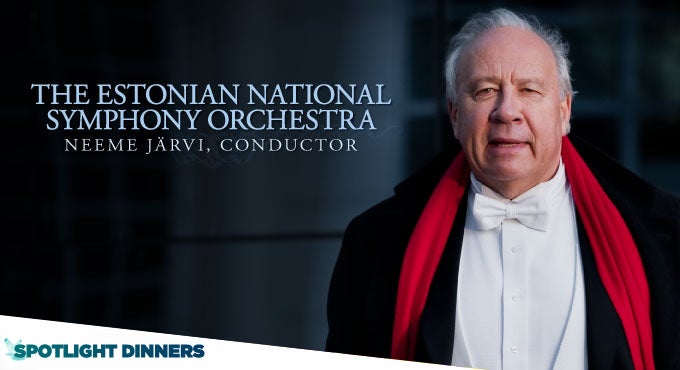 Nov
8
, 2013
Cobb Great Hall
ESTONIAN NATIONAL SYMPHONY ORCHESTRA
Nov
8
, 2013
Cobb Great Hall
ESTONIAN NATIONAL SYMPHONY ORCHESTRA
Breathtaking music, a beloved, world-famous conductor, a terrific orchestra, and a young soloist who's already been hailed as a "seasoned phenom" by The Washington Post.
"The playing of the Estonian National Symphony Orchestra is superb – full of color and much-needed atmosphere." – The Daily Telegraph
"Jarvi is a grand master" – BBC Music Magazine
The Estonian National Symphony Orchestra marks its anticipated Wharton Center debut, led by an audience favorite not only in Michigan but also around the world, DSO Music Director Emeritus Neeme Järvi.
Starting as a radio orchestra in the 20s, the Grammy-winning Estonian National Symphony Orchestra has become an orchestra of great acclaim, including a BBC Music Magazineaward for Best Orchestral Album. With the smashing success of the ensemble's 2009 U.S. debut, and the orchestra returns to the States for what is sure to be another lauded tour.
The performance showcases one of Dvořák's most popular works, the Cello Concerto in B minor, one of the great cello concertos of all time. Written during Dvořák's time in the U.S., the power and passion of this work is remarkable to experience live. You'll also hear a passage the composer revised when he returned to his native Bohemia, when he learned of the death of his sister-in-law Josefina. As a young man, Dvořák fell in love with Josefina, but in the end married her sister. The featured soloist is Narek Hakhnazaryan, Gold Medal winner of the Tchaikovsky International Competition and the most prestigious prize given to a cellist. He has received great acclaim, including praised for his "intense focus and expressive artistry" by the New York Times.
Run Time: Approximately 1 hour 50 minutes with an Intermission.
Enjoy dinner before the show and hear from Estonian National Symphony Orchestra Executive Director Kadri Tali, providing a unique perspective on the evening's performance. Spotlight Dinner patrons enjoy a buffet dinner in Wharton Center's Christman Lounge, and are available for $45 per person (includes dinner and one glass of wine or beer and a cash bar).
Sponsored by Stanley & Selma Hollander Endowment Fund.
Media Sponsor WKAR
Additional Ticket Information

Run Time: Approximately 1 hour 50 minutes with an Intermission.