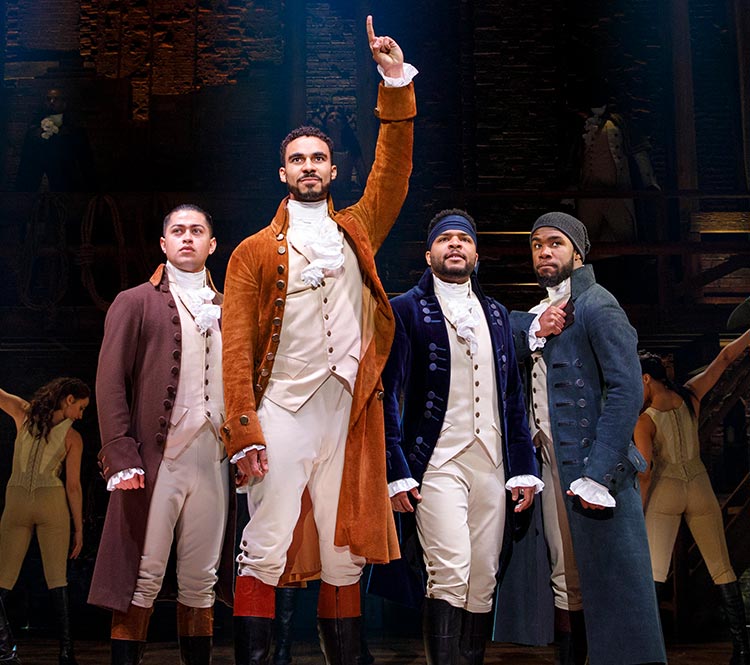 May
14
-
June
2
, 2019
Cobb Great Hall
Hamilton
An American Musical
May
14
-
June
2
, 2019
Cobb Great Hall
Hamilton
An American Musical
With book, music and lyrics by Lin-Manuel Miranda, direction by Thomas Kail, choreography by Andy Blankenbuehler and musical direction and orchestrations by Alex Lacamoire, Hamilton is based on Ron Chernow's biography of Alexander Hamilton.
Hamilton is the story of America's Founding Father Alexander Hamilton, an immigrant from the West Indies who became George Washington's right-hand man during the Revolutionary War and was the new nation's first Treasury Secretary. Featuring a score that blends hip-hop, jazz, blues, rap, R&B, and Broadway, Hamilton is the story of America then, as told by America now.
The East Lansing production of Hamilton is part of the Angelica National Tour. Casting for the tour reflects the same talent, attention to detail and high quality as the Broadway production.
East Lansing engagement is welcomed by Auto-Owners Insurance; The Christman Company; Delta Dental of Michigan; Farm Bureau Insurance; and Jackson National Life Insurance Company.
Additional ticket on sale information

How much do tickets cost?

On sale prices are $73.50, 123.50, $163.50, with a limited number of $398.50 premium seats available for select performances. Prices include a $3.50 facility fee. Additional fees may apply based on method of purchase.

How many can I buy?

There is a four (4) ticket limit per household. All orders will be reviewed for duplicate accounts, bots or other means being used to circumvent the Four (4) ticket limit. Over limit and fraudulent ticket orders may be cancelled without notice.

The ticket limit is in place to allow as many people as possible the opportunity to purchase tickets for Hamilton. Any and all transactions online or in person that are detected to be bot purchases, patrons creating duplicate accounts in order to purchase more than four (4) tickets, or any action that indicates a purchase in excess of the four-ticket limit may be canceled without consideration.

When will I receive my tickets?

You will receive your tickets by May 6 if you purchase with a credit card. All Hamilton tickets will be mailed to the address specified in your account. Digital delivery is not available.

Will there be a lottery during the engagement?

There will be 40 Orchestra-level seats offered for $10 at each performance. Details will be announced closer to the engagement.

In the meantime, download the Hamilton app to be sure you receive lottery updates. The app will be needed to participate in the lottery.

Join Wharton Center's eClub in order to receive updates. In addition, follow Wharton Center on Facebook, Twitter and Instagram.

Will more tickets be released later?

Additional seats may be made available for sale at a later time. Patrons are advised to check Whartoncenter.com and Wharton Center social media regularly for updates.

What about waiting lists, group sales and discounts?

There are no waiting lists, group sales or discounts for Hamilton tickets.

Consumer alert about resellers/brokers

If you search Hamilton East Lansing, you will likely find many reseller sites advertising Hamilton tickets at prices higher than those on our official site. Be aware of what website you are on before you make any purchase. If you purchase through other sources, we are not able to guarantee the validity of your seats and you are very likely to pay far more than the face value price.

View the consumer alert for more information

When you buy from an unofficial source:

We cannot be responsible for tickets purchased through unauthorized third parties.
We cannot guarantee that your tickets are valid and, therefore, cannot guarantee admittance.
We cannot replace your tickets if they are lost or stolen.
You may be paying much more than the ticket's face value.
We cannot contact you with information regarding time changes, show cancellations or other information.
We cannot issue a refund to you in case of an event cancellation.

Age Recommendation, ASL, and Run Time

Hamilton is appropriate for ages 10+. The show contains some strong language.

ASL performance is on Sunday, May 19, at the 1:00pm matinee.

Open Captioning is available for Thursday, May 16 at 7:30pm; Friday, May 31 at 8pm; and Saturday, June 1 at 2pm.

Running time is 2 hours and 45 minutes, including intermission.