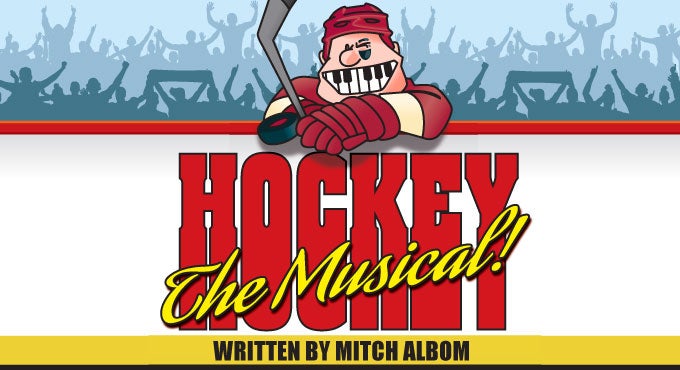 Aug
24
-
26
, 2017
Pasant Theatre
Hockey - The Musical!
New from Mitch Albom
Aug
24
-
26
, 2017
Pasant Theatre
Hockey - The Musical!
New from Mitch Albom
Listen to Tim Staudt and Mitch Albom chat about, Hockey the Musical!
Noted author, columnist, and playwright Mitch Albom again takes us into the world of musical comedy with his irresistible farce Hockey - The Musical! Now in its second season after a hugely successful eight-week run in Detroit in summer 2016, Hockey - The Musical! is described by Albom himself as "Spamalot - with hockey sticks."
This is sure to draw theater and sports fans alike. When God decides there are too many sports in the world, he chooses to eliminate one of them - hockey. But that doesn't sit well with fans of the underdog game. So God says that if five pure-of-heart souls can plead their case to save their beloved sport, he'll reconsider. Watch the hilarity unfold as five misfits sing and dance their way toward saving hockey in this raucous, bawdy, foot-tapping musical, an Albom original.
"I'm really thrilled about bringing the quirky, lovable elements of hockey into a comic musical," says Albom. "It's an underdog show for an underdog sport. The laughs and heart that the story is able to dig out, thanks to how much we all love hockey, has made for perhaps the most enjoyable creation I've ever attempted."
The musical—directed and choreographed by Albom's brother, Peter—takes place in a mythical hockey rink and combines more than a dozen original compositions with popular classics. Original songs include "Kill Baseball," "When You're A Wing," and "God Is A Canuck." Audiences will hear familiar tunes from the 1950s and '60s era, among others, with original lyrics penned by Albom.
---
On Opening Night (Thursday, August 24) join us for a pre-show VIP meet-and-greet with Mitch Albom. A limited number of VIP tickets are available at $73 each. Meet-and-greet begins at 6:30pm in the Jackson Lounge
Sponsored by Marketing Resource Group and Radisson Hotel Lansing at the Capitol.
Additional Ticket Information

Run time is 90 minutes. No intermission. Recommended for ages 12 and older.