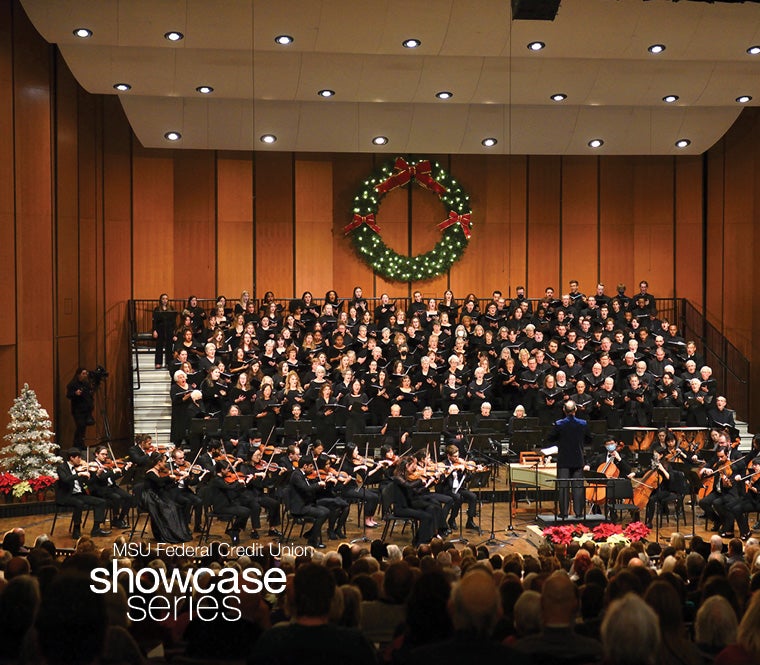 Dec
9
, 2023
Cobb Great Hall
Holiday Cheer with MSU Symphony Orchestra and Choirs
College of Music
Dec
9
, 2023
Cobb Great Hall
Holiday Cheer with MSU Symphony Orchestra and Choirs
College of Music
More than 300 members from MSU's Symphony Orchestra and Choirs bring the joy and spirit of the season to life in this holiday music tradition. A concert for the entire family, a variety of holiday favorites are included, from Tchaikovsky's The Nutcracker and Handel's Messiah, to Anderson's Sleigh Ride and audience singalong. Jonathan Reed, Sandra Snow, and Octavio Más-Arocas, conductors.
The full Holiday Cheer program includes: Hark! The Herald Angels Sing (arr. Arthur Harris) by Charles Wesley; Waltz of the Flowers (from The Nutcracker) by Pyotr Ilyich Tchaikovsky; Gloria by John Rutter; O Holy Night (for cello and orchestra) by Chad Rehmann; select movements from Messiah by George Frideric Handel; Radetzky March by Johann Strauss; Sleigh Ride by Leroy Anderson; and A Holly and Jolly Sing Along by James M. Stephenson.
---
Generously sponsored by Interim President Teresa K. Woodruff, Ph.D., Thomas V. O'Halloran, Ph.D., Ann, John and Abby Lindley, and a donor family with the hope this concert touches our spirit and brings peace and joy to all this season and in the coming year.