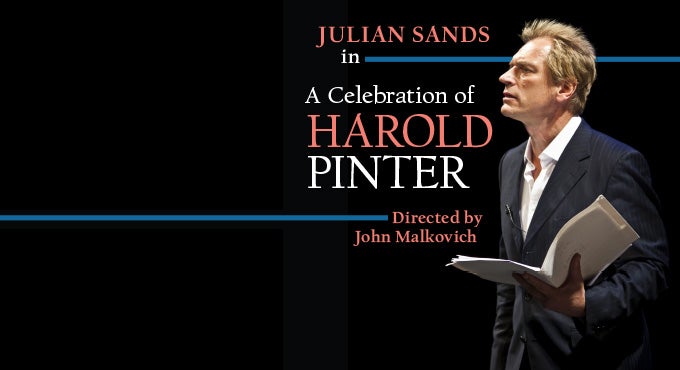 Nov
16
, 2014
Pasant Theatre
Julian Sands in: A Celebration of Harold Pinter
A CELEBRATION OF HAROLD PINTER
Nov
16
, 2014
Pasant Theatre
Julian Sands in: A Celebration of Harold Pinter
A CELEBRATION OF HAROLD PINTER
"You feel the playwright's presence..." – The New York Times
Full of spirit and wit, famous British actor Julian Sands performs a one-man shows getting to the soul of the legendary Nobel Prize-winning playwright, screenwriter, director and actor Harold Pinter. Directed by John Malkovich, this is a rare evening to see a phenomenal actor in the intimate setting of the Pasant Theatre, delving into Harold Pinter as a playwright, husband and human being, including some particularly entrancing love poems written to his wife, Antonia Fraser.
Julian Sands has been on stage, TV, and in numerous films, including the Oscar-nominated film, The Killing Fields, as well as A Room with a View, Leaving Las Vegas, and The Girl with the Dragon Tattoo. Don't miss your chance to see this remarkable actor and movie star live!
There will be a special post-show AfterChat with Julian Sands directly following the performance, free for ticketholders.
Performance Run time is approximately 1 hour 40 minutes which includes an intermission.
Age recommendation: High School & Up
Check out this GREAT article on Julian Sands in: A Clebration of Harold Pinter
Additional Ticket Information

Performance Run time is approximately 1 hour 40 minutes which includes an intermission.
Age recommendation: High School & Up