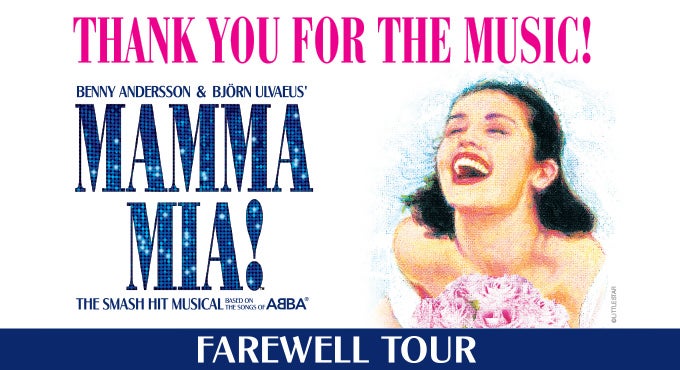 Oct
14
-
16
, 2016
Cobb Great Hall
Mamma Mia!
Farewell Tour
Oct
14
-
16
, 2016
Cobb Great Hall
Mamma Mia!
Farewell Tour
TRAFFIC & PARKING ALERT for Mamma Mia:
Friday, October 14:
Due to the 6:00pm MSU Homecoming Parade, please allow extra time for traffic and parking. Please visit the following link for the parade route.
http://alumni.msu.edu/programs/homecoming/files/pdfs/paradeRoute.pdf
Roads surrounding Wharton Center will be open, however, we expect parade related traffic and parking in our vicinity. Friday's Mamma Mia show is well attended and we have a coinciding event in the Pasant Theater, so parking congestion in the Wharton Ramp is expected. Please visit the Directions and Parking page at whartoncenter.com for additional parking options. Parking fee is $5.00 CASH ONLY.
SATURDAY, OCTOBER 15, 2PM and 8PM:
Due to the 3:30pm MSU football game please allow extra time and patience in your travel plans to Wharton Center. Traffic congestion, road closures, and heavy pedestrian traffic on campus and around East Lansing are expected. We recommend entering campus at the following points:
Grand River Ave. to south bound Bogue Street, left onto east bound Shaw Lane
Trowbridge Rd. exit, right onto south bound Harrison Rd., left onto east bound Service Rd., left onto north bound Bogue St., right onto east bound Wilson Rd.
Mt. Hope Road to north bound Hagadorn Road, left onto Fee Road., left onto westbound Wilson Road.
Parking will be available at the Wharton Center Ramp. Parking fee is $5.00 CASH ONLY.
---
A mother...a daughter...3 possible dads...and a trip down the aisle you will never forget! GIMME GIMME GIMME one more chance to see Mamma Mia! The sunny, funny tale inspired by the music of ABBA follows a daughter's quest, on the eve of her wedding, to discover the identity of her father. During the hit musical's historic 14-year run, the Broadway blockbuster became an international phenomenon. See it again or for the first time.
Musical comedy romance for most audiences 10 and up.
Run Time: 2 hours and 30 minutes, including one intermission.
East Lansing engagement is welcomed by Auto-Owners Insurance; Demmer Corporation; Jackson National Life Insurance Company; The Centennial Group; and Tri-Star Trust Bank.
Additional Ticket Information

Musical comedy romance for most audiences 10 and up.

Run Time: 2 hours and 30 minutes, including one intermission.

Group Information

Contact our Group Sales Dept. for Group Rates at 517.884.3130