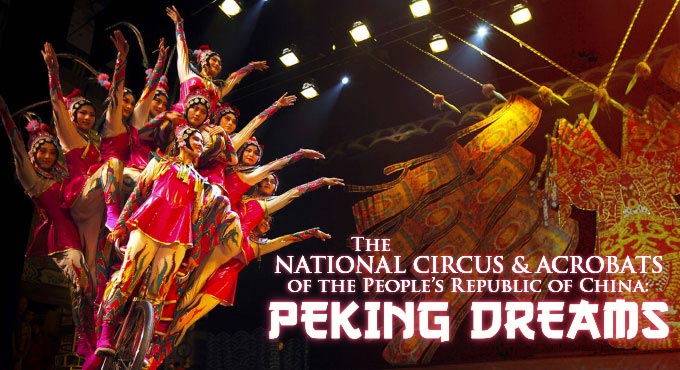 Oct
22
, 2015
Cobb Great Hall
THE NATIONAL CIRCUS AND ACROBATS OF THE PEOPLE'S REPUBLIC OF CHINA: PEKING DREAMS
Oct
22
, 2015
Cobb Great Hall
THE NATIONAL CIRCUS AND ACROBATS OF THE PEOPLE'S REPUBLIC OF CHINA: PEKING DREAMS
Preview the Program HERE.
Known for superhuman feats, The National Circus and Acrobats of the People's Republic of China perform their inspiring and jaw-dropping show, Peking Dreams. This production will leave audiences stunned as acrobats combine classic routines like trapeze tricks and high-chair balances, feet juggling with umbrellas, bicycle stunts, grand martial arts and much more. Witness gravity-defying acts as acrobats balance, swing, soar and tumble through the air, pushing the boundaries of possibility and igniting awe. With over 40 countries visited and a host of awards and accolades won, witness the magic! This event is presented in conjunction with "The China Experience: An MSU Exploration of Arts & Culture," which aims to create dynamic programming throughout the year focusing on the arts and culture in Greater China.
Performance Run Time: Approximately 1 hour 55 minutes which includes a 20 minute intermission.

There will be an Insight Preview before the performance.
Insight Preview Speaker: Xian Wu, MSU Library; Asian Studies Bibliographer
Time: 6:45pm
Location: Christman Lounge
Sponsored by ProAssurance Casualty Company.
Media Sponsor WKAR.
Additional Ticket Information

Performance Run Time: Approximately 1 hour 55 minutes which includes a 20 minute intermission.

Group Information

Contact our Group Sales Dept. for Group Rates at 517.884.3130