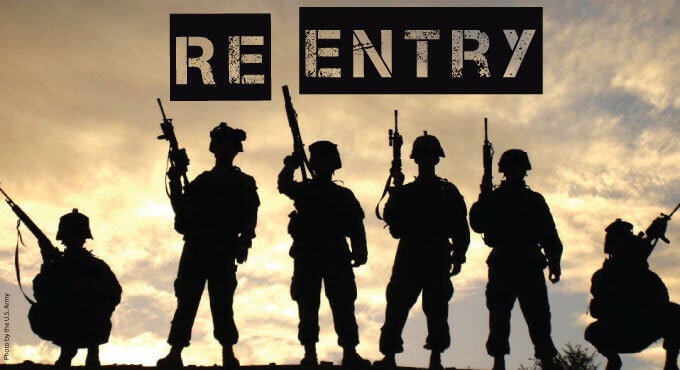 Feb
26
-
27
, 2016
Pasant Theatre
Re Entry
A Staged Reading
Feb
26
-
27
, 2016
Pasant Theatre
Re Entry
A Staged Reading
ReEntry
A Play by Emily Ackerman and KJ Sanchez
Staged Reading
A Wharton Center Theatre Production
Produced and Directed by Bert Goldstein
"Provocative and powerful" - The New York Times
How do you go from battlefields to summer barbecues? What price does a family pay when husbands, wives, sons and daughters go off to war? Based on interviews and testimony of soldiers and their families, this staged reading of ReEntry explores the challenges faced by over a dozen service members and their loved ones as they transition between home and deployment. Honest, moving and surprisingly funny, it takes you into the world of families and Marines as they get ready for and return from the wars in Iraq and Afghanistan. Characters directly address the audience as they speak the real words of veterans and their families, give unvarnished answers about what they've seen, and tell of the joys, challenges and frustrations of returning home from war.
"Powerful high wattage theater. Scalding, moving, and highly entertaining…. [places] hot-blooded life on the stage, a rare accomplishment that deserves to be lauded and, more importantly, seen." - Backstage
For audiences ages 16 and up. Contains explicit language.
Performance Run Time is approximately 95 minutes with no intermission.
There will be a short Q&A with the Director and Cast immediately following each performance inside the Theatre.