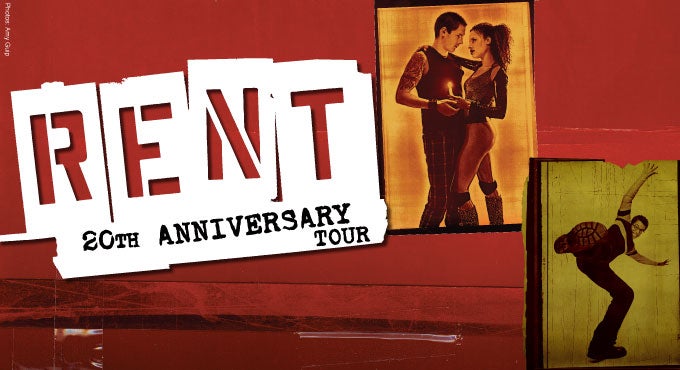 Mar
17
-
19
, 2017
Cobb Great Hall
Rent
20th Anniversary
Mar
17
-
19
, 2017
Cobb Great Hall
Rent
20th Anniversary
In 1996, an original rock musical by a little-known composer opened on Broadway...and forever changed the landscape of American theatre. Two decades later, Jonathan Larson's Rent continues to speak loudly and defiantly across generations and around the world. Now this Pulitzer Prize and Tony Award® winning masterpiece returns in a vibrant 20th Anniversary touring production. A re-imagining of Puccini's La Bohème, Rent follows a year in the lives of seven artists struggling to follow their dreams without selling out. This timeless celebration of friendship and creativity reminds us to measure our lives with the only thing that truly matters – love.
Contains adult themes and strong language.
---
RENT'S 20th Anniversary Tour will offer a pre-show lottery at the Ticket Office for $20 seats in the first two rows of the orchestra section. The lottery will be offered for each performance, beginning two-and-a-half hours prior to curtain time. Interested persons should be at Wharton Center's Ticket Office at that time to submit their name for the drawing. The drawing will take place two hours before curtain, for a limited number of tickets priced at $20 each. Only one entry is allowed per person (cards are checked for duplication prior to drawing), and each entry may request up to 2 tickets. Winners must be present at the time of the drawing and show valid ID to purchase tickets. Limit one entry per person and two tickets per winner. Tickets are subject to availability.
---
East Lansing engagement is welcomed by Foster Swift; Physicians Health Plan; and Rick's American Cafe/ Harrison Roadhouse/Beggar's Banquet.
Additional Ticket Information

RENT'S 20th Anniversary Tour will offer a pre-show lottery at the Ticket Office for $20 seats in the first two rows of the orchestra section. The lottery will be offered for each performance, beginning two-and-a-half hours prior to curtain time. Interested persons should be at Wharton Center's Ticket Office at that time to submit their name for the drawing. The drawing will take place two hours before curtain, for a limited number of tickets priced at $20 each. Only one entry is allowed per person (cards are checked for duplication prior to drawing), and each entry may request up to 2 tickets. Winners must be present at the time of the drawing and show valid ID to purchase tickets. Limit one entry per person and two tickets per winner. Tickets are subject to availability.

Group Information

Contact our Group Sales Dept. for Group Rates at 517.884.3130