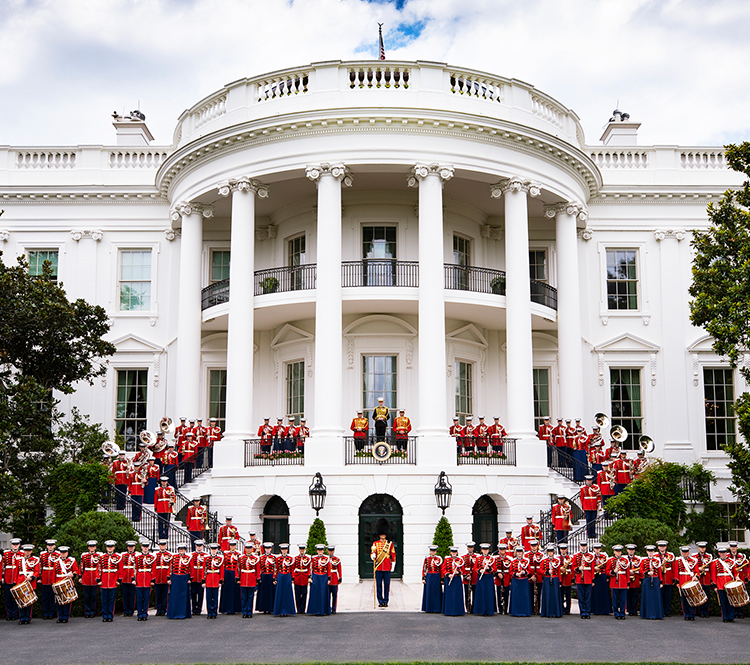 Oct
25
, 2023
Cobb Great Hall
"The President's Own" U.S. Marine Band
Oct
25
, 2023
Cobb Great Hall
"The President's Own" U.S. Marine Band
Marine Band Director Col. Jason Fettig has programmed musical selections in the style of the band's 17th director John Philip Sousa, who initiated the concert tour tradition in 1891. Concertgoers can expect a mix of works including traditional band repertoire, Sousa marches, contemporary compositions, vocal and instrumental solos and a patriotic salute to the Armed Forces.
Since Sousa was first granted permission to tour the country by President Benjamin Harrison in 1891, the Marine Band has delivered a White House experience from Washington, D.C., to the far-reaching corners of our nation. These special concerts have now grown into an experience shared across generations of Americans as well as a cherished tradition for families, veterans and music-lovers alike.
The Marine Band is America's oldest continuously active professional musical organization. Founded in 1798, the band has performed for every U.S. President since John Adams. Known as "The President's Own" since the days of Thomas Jefferson, the Marine Band's mission is to provide music for the President of the United States and the Commandant of the Marine Corps.

Free admission and start time

Limit 4 per household. All ticket holders must be seated by 7:15pm, after that those without tickets will be allowed entry.

Run Time

This performance will run 2 hours, including a 20-minute intermission.

Parking and Traffic Alert

The Cobb Great Hall is expected to be full for this performance. Please arrive early to allow extra time for traffic and parking.