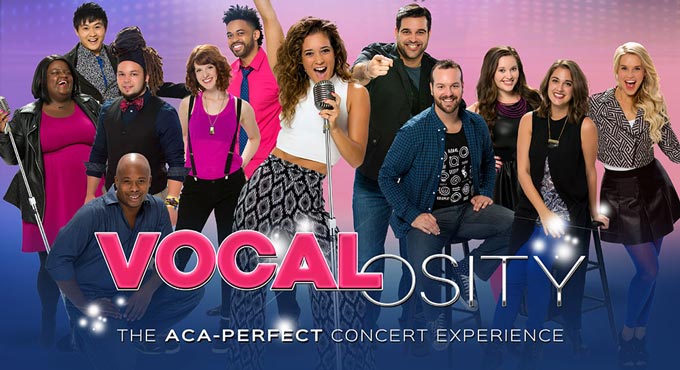 Jan
26
, 2016
Cobb Great Hall
VOCALOSITY
THE "ACA-PERFECT" MUSICAL EXPERIENCE
Jan
26
, 2016
Cobb Great Hall
VOCALOSITY
THE "ACA-PERFECT" MUSICAL EXPERIENCE
Submit your a cappella group's video for a chance to perform LIVE at Wharton Center prior to the show. Click HERE for details on the "ACA-PERFORMANCE OF A LIFETIME" contest.
Vocalosity captures the excitement of a cappella live, onstage. From the creative mind of Deke Sharon, vocal producer for Universal Studio's Pitch Perfect, Pitch Perfect 2, and NBC's The Sing-Off, comes the live concert/theatrical experience celebrating the human voice. Twelve performers, in unlimited combinations, explore styles from Gregorian chant to contemporary Top 40 hits, creating unique musical sounds along the way. Vocalosity is a fast-paced, exhilarating exploration of this one-of-a-kind musical style. Sharon serves as artistic director, music director, and co-creator of this new production, featuring the world's best vocal artists.
Run Time approximately 1 hour 50 minutes which includes a 20 minute intermission.
Sponsored by Brogan, Reed, Van Gorder & Associates/Ohio National Financial Services; and Demmer Corporation, Governmental Consultant Services.

There will be an After Chat following the performance.
Media Sponsor Michigan Radio.