Feb

27

, 2019
The global sensation Ukulele Orchestra of Great Britain returns to Wharton Center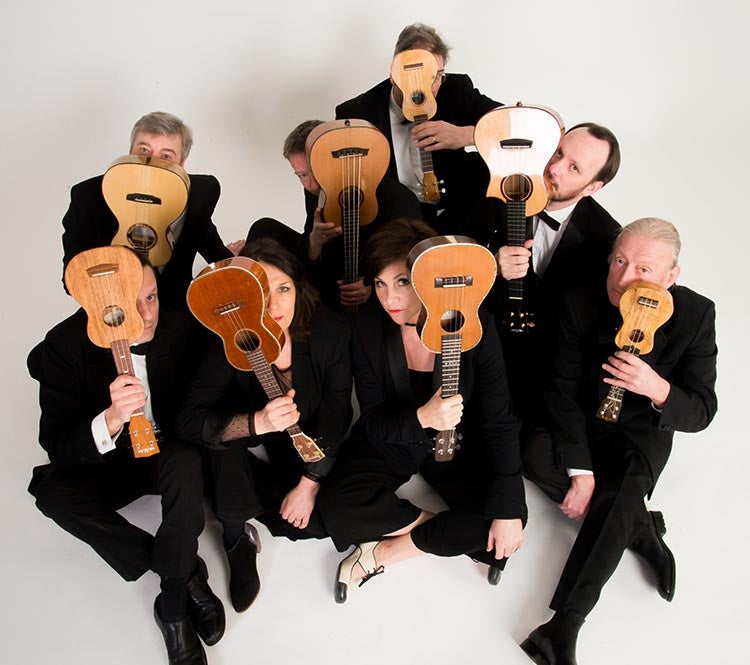 The global sensation Ukulele Orchestra of Great Britain returns to Wharton Center for another night of unexpected musical fun. Tickets are available online; at the Auto-Owners Insurance Ticket Office; or by calling 1-800-WHARTON.
Called "Superbly tuneful fun!" by NYTimes.com, Ukulele Orchestra of Great Britain's charm lies in the delivery of their music. Known to go from classical works by Tchaikovsky, to Nirvana via Otis Redding, the orchestra leaves audiences reeling. The 20 members of the orchestra have become a national institution. Masters of the unexpected, the "Ukes" provide pure entertainment, dead-pan British humor, and irresistible foot-tapping music. You may never think about music in the same way once you've been exposed to the Ukes' twisted musicology.
The Orchestra was formed in 1985 as a bit of fun, but the first gig was an instant sellout, and they've been performing ever since. By 1988 the group released an LP, appeared on BBC TV, played at WOMAD (the international arts festival) and recorded a BBC Radio 1 session.
They have most recently performed sold-out shows at the Sydney Opera House, the Royal Albert Hall, and New York's Carnegie Hall.
There will be an Insight Preview before the performance in the Stoddard Grand Tier Lounge at 6:45 p.m., and an After Chat immediately following the performance inside the Cobb Great Hall.