Hanel Baveja Spotlight Story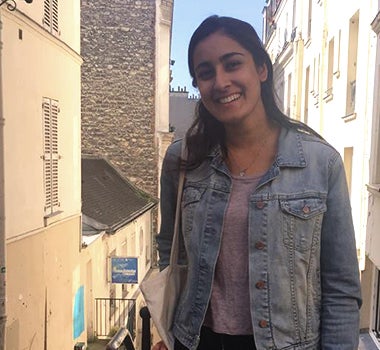 Hanel Baveja was 14 years old when she wrote her first play.
It was the first of three times she won the Young Playwrights Festival at Wharton Center.
For more than 20 years, Michigan high school students have been invited to submit a one-act play to the annual, juried competition. Six original works, written by high school students, are chosen each year to be produced by students from the MSU Department of Theatre and performed on the Pasant Theatre stage at Wharton Center.
While she was a student at Huron High School in Ann Arbor, Hanel's sophomore English teacher told her about the Wharton Center competition.
"I always loved creative writing and had written a lot of stories and poetry, but I'd never written a play," she said.
Fearless and 14, she dug in and created a dystopian story about genetically modified humans in a time when parents can choose every attribute of their children. The story focused on a genetically modified teen girl who didn't have the IQ her parents planned she would.
"I picked this really weird, unusual subject," she said. "I was very creative because I didn't know what I was doing. I didn't feel pressured to adhere to conventions and write something that looked more like something I'd seen before."
Paired with a professional theater mentor, Hanel spent several weeks refining her play before it was handed off to MSU theater students who produced it.
"It was a surreal moment, seeing it performed for the first time," Hanel said. "It was magical to sit there at Wharton Center and watch this production of something I had written spring to life.
"There's really no feeling like it. I never got used to it."
Finding her voice
Winning on her first try gave Hanel confidence to continue entering the festival.
She won again in her junior and senior years of high school.
"My writing voice evolved each year because of YPF," she said.
That largely was due to working with the mentors.
"The mentors are an invaluable part of the process," she said. "At the time, I didn't think about it this way, but now that I'm 21, looking back, what I appreciate is they treated the plays with so much professionalism and seriousness.
"I never once felt they were brushing it off or treating to as just a high school play. They held our works to a high standard and really wanted them to be the best they could be. That is unusual and incredible."
"Undoubtedly, participating in YPF affected what I wanted to do," she said. "It influenced my decision to study English – I do a lot of creative writing here – and it had an impact on the professors I wanted to learn from in college."
Hanel said growing up in Ann Arbor, she had access to a lot of performing arts opportunities in the audience with her parents and working on the tech side of her high school productions.
"Before YPF, I had never been to Wharton Center," she said. "Working with Bert Goldstein [Director of Wharton Center Institute for Arts & Creativity] and YPF gave me an appreciation for the performing arts that I'll never lose."
She said being treated as a professional at such a young age was invaluable.
"Without a doubt, my 14-year-old dreams of becoming a writer and getting into Harvard came true because of my YPF experience," she said. "Working with Wharton Center gave me the affirmation I needed to see this was something I was good at and to explore where else that could take me."