Josh Holliday Spotlight Story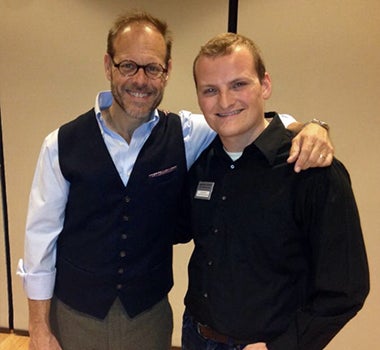 It's unclear when – or if – Josh Holliday sleeps.
By day, the former Wharton Center intern is the tri-county development and placemaking manager for the Lansing Economic Area Partnership (LEAP), a regional economic development organization.
By nights and weekends? He's co-chair of [email protected], working to engage the next generation of theatergoers with Wharton Center. And he's the president of Lansing 5:01, connecting college interns and young professionals with work and play opportunities in greater Lansing. And he's on the board of the Owosso Community Players … where he also performs in their shows.
Whew.
"People take for granted how much our region has to offer," Josh said. "I don't want to just work in this community, I want to live in it, be a part of it, make things happen here."
'Where I belonged'
Growing up in Charlotte, 20 miles southwest of Lansing, Josh says he's been a Spartan "my whole life."
His mom, Sandy, works in the College of Osteopathic Medicine, and the family has gone to scores of hockey and football games over the years.
But with a burgeoning interest in theater, thanks to seeing Wicked in the Cobb Great Hall, it was Wharton Center that created the strongest pull for Josh, practically from the moment he enrolled at MSU – despite choosing to study hospital administration.
"I had a paid internship in the department of family medicine, but pretty quickly I felt like it wasn't a good use of my creative side," Josh said. "Volunteering on the student marketing team at Wharton Center helped me realize what I really wanted to do with my life."
So, he quit his job to work as an unpaid intern for Wharton Center.
"People thought I was crazy," he said, laughing. "But it was where I belonged."
Moving up the ranks to becoming a paid intern through the Joe and Betty Gadaleto Endowment for Performing Arts Internship, Josh built an impressive list of accomplishments in four years interning at Wharton. Among his biggest accomplishments: co-founding the MSU Arts Council, uniting the arts-based organizations on campus.
"Being an intern for Wharton Center opened so many doors for me professionally," he said. It led to an internship for two summers with the Grand Ole Opry in Nashville and, while still a senior at Michigan State, a job offer from the Arts Council of Greater Lansing.
"Why would you hire someone who doesn't have their degree yet?" Josh wondered. "But they took a chance on me because of the relationship I built with them. That opportunity wouldn't have been possible without Wharton Center."
A whole new world, right here
From working as the program manager for the Arts Council to his role in regional economic development with LEAP, a good portion of Josh's work involves promoting the performing arts and arts education opportunities at the Wharton Center.
"Wharton Center has been an anchor institution in our community for 35 years," he said. "My job is to promote all the great places we have in our community, showcasing the quality of a place, its diversity. We're not going to be able to attract the greatest businesses and greatest talent to the region without places such as Wharton Center."
Talking with college interns and young professionals, Josh acknowledges the pull that big cities have for them.
"There's such a temptation for young people to want to move to a city that 'has it all,'" he said. "Sure, Chicago is attractive. But we have everything they have, here in Lansing. Being able to promote the Lansing region as a place where they can have access to so many entertainment options, so many ways to actually be a part of the community and have a role in creating the next wave of art and arts patrons here is important to me."
And that, in turn, makes the world bigger for everyone.
"Being exposed to the arts creates a vocabulary for people," he said. "It starts to create a sense of sophistication and the ability to critically think about things.
"Wharton Center brings the world to you here in Lansing."