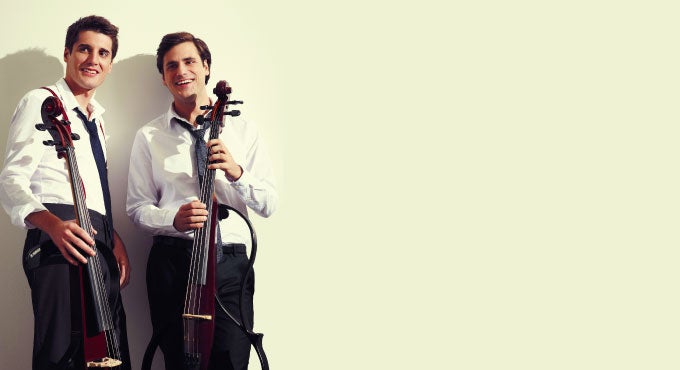 Feb
22
, 2015
Cobb Great Hall
2CELLOS
A UNIQUE CONCERT EVENT
Feb
22
, 2015
Cobb Great Hall
2CELLOS
A UNIQUE CONCERT EVENT
Preview the program HERE.
Go and see them live, because it really is astonishing! – Elton John
Young Croatian cellists Luka Sulic and Stjepan Hauser, the 2Cellos, have broken down the boundaries between genres, from classical and film music to pop and rock. Internationally famous YouTube sensations, these classically trained, award- winning cellists have been featured on GLEE, The Bachelor, and The Ellen DeGeneres Show. They are equally impressive playing Benedictus as they are rocking out to AC/DC, Michael Jackson, Guns N' Roses, and U2. Don't miss an eclectic rocking evening performed by masterful musicians. This is NOT your typical cello recital!
Performance Run time is approximately 80 minutes NO intermission.
Age recommendation: All Ages
Additional Ticket Information

Performance Run time is approximately 80 minutes NO intermission.
Age recommendation: All Ages