Sep
26
, 2013
Beethoven and the Misfortune Cookies
Pasant Theatre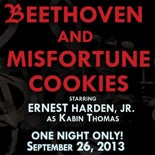 View Seating
Written by Joni Ravenna
Directed by T.J. Castronovo
Starring Ernest Harden, Jr. as Kabin Thomas

Beethoven and Misfortune Cookies by award-winning playwright Joni Ravenna is a one-man show that examines the true story of Kabin Thomas (native of Detroit, MI), a University of Arkansas music professor who was fired in 2006 for using profanity in the classroom and stars Ernest Harden Jr. ("J. Edgar," "White Men Can't Jump") who is a Los Angeles-based alum of the DOT and native of Detroit, MI. Kabin Thomas' story brings attention to "controversial" teachers who present unique teaching strategies rather than standardized tests.
Sponsored in part by Gretel Rutledge, Department of Theatre, College of Arts and Letters, and the Office for Inclusion and Intercultural Initiatives.
Event Details
Sep

26

, 2013

Pasant Theatre

FREE Ticketed Event. Everyone must have a ticket to enter into performance.

Free ticketed event! Everyone must have a ticket to enter into performance. Tickets only available at the Wharton Center Ticket Office.
Policies & Accessibility
What Accessibility Services are offered at Wharton Center?

Wharton Center offers many patron services including Audio Description, Sign Language Interpretation, Assisted Listening Devices, Barrier-Free Parking and Wheel Chair Pick-up. Please visit the Accessibility page for more information.

Helpful Tips and Personal Responsibility Statement

To ensure your visit to Wharton Center is a great one, please visit the Helpful Tips page. Questions about cameras, children, late seating and parking can be answered here.

Can I exchange my ticket? What happens if I lose my ticket?