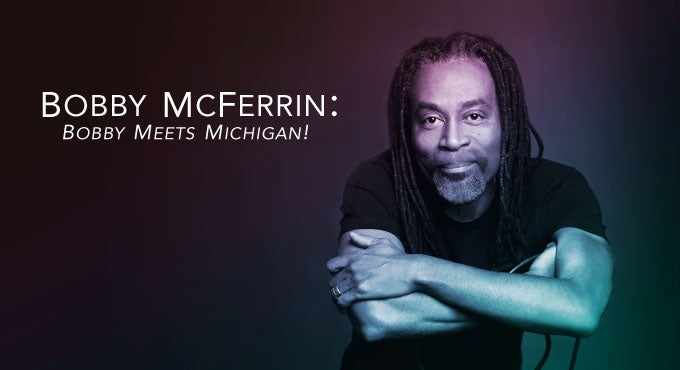 Feb
6
, 2016
Cobb Great Hall
BOBBY MCFERRIN
BOBBY MEETS MICHIGAN!
Feb
6
, 2016
Cobb Great Hall
BOBBY MCFERRIN
BOBBY MEETS MICHIGAN!
Featuring Marion Hayden, Alexander Hlavaty, Igor Houwat, Tia Imani Hanna, Mike Jellick and Carolyn Koebel
10-time Grammy winner Bobby McFerrin has defied categorization for decades. He re-envisioned the human voice in his hit a cappella song "Don't Worry, Be Happy," inspired a generation of a cappella singers, collaborated with artists like cellist Yo-Yo Ma, Chick Corea and Questlove, conducted the Vienna Philharmonic, led his own improv choir, and been seen by millions in magical solo events. Now Bobby Meets Michigan!, Bobby McFerrin, in collaboration with Michigan artists, will seek to highlight the process of creativity and music making. What will be seen on stage will be completely improvisational, sharing the joy of what is possible in spontaneously creating art with other talented performers.
The Bobby Meets... series has evolved naturally over decades, as Bobby's love of surprising new sounds drew him toward onstage meetings with guest artists all over the world. This show will feature Michigan residents Mike Jellick, a jazz and classical piano player and composer from Detroit who has become a mainstay on the Detroit jazz scene; Marion Hayden, a jazz bass player from Detroit on faculty with MSU's Community Music School in Detroit; Tia Imani Hanna, a Detroit-born violinist, vocalist and MSU graduate, currently making her home in Lansing, who has been hailed as "a talent overload" by the Lansing State Journal; Igor Houwat, a Lebanese and Brazilian MSU College of Music alum, Lansing area oud player and founder of the Mediterranean fusion band Wisaal; Alexander Hlavaty, a dancer and Western Michigan University graduate who currently dances with Eisenhower Dance in metro Detroit; and Carolyn Koebel, an MSU and Western Michigan University graduate and percussionist whose unique passion for rhythm and vibration has led her around the world exploring the rhythmic roots of Latin America, West Africa, and the Middle East. Don't miss an incredible chance to see Bobby McFerrin and these incredible artists and lift your voice and spirit in joyful song!
Performance Run Time: Approximately 90 minutes with no intermission.
Media Sponsor: Michigan Radio.