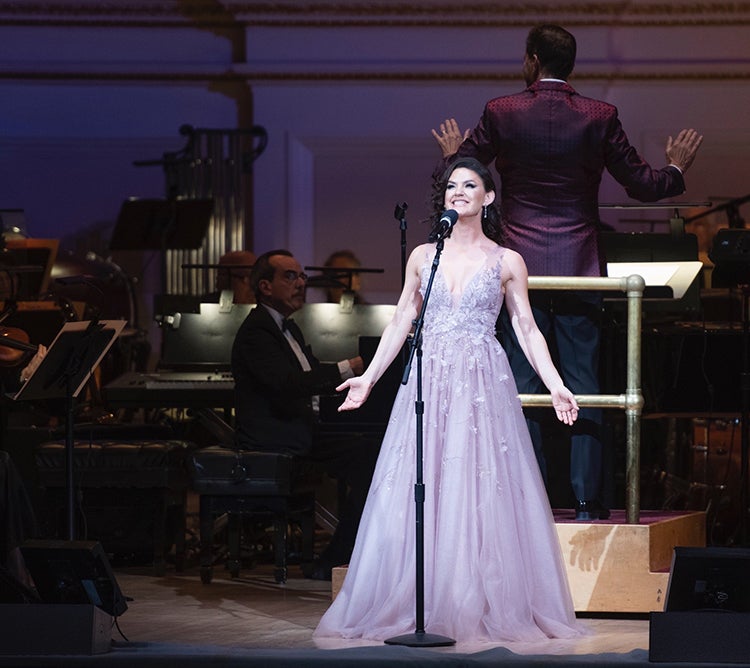 Nov
13
, 2020
Virtual Performance
Carrie Manolakos Virtual Performance
Nov
13
, 2020
Virtual Performance
Carrie Manolakos Virtual Performance
Join Carrie Manolakos for a performance featuring some of her favorite songs and her living room piano.
"And there is that 'voice' which is just phenomenal and takes you to another place. When Carrie Manolakos sings, it's impossible not to feel it. She takes the audience on an emotional journey. Carrie has devoted her whole life to music, acting and writing, and has managed to be equally compelling authentically sharing herself, her voice and her music as she is acting in roles both new and known." —Gemma Magazine
Carrie Manolakos is a Broadway star, actress, writer, and recording artist best known for her roles on stage, including Sophie Sheridan in Broadways Mamma Mia! and Elphaba in the National Tour of Wicked. Carrie can also be heard as a voice on The Greatest Showman and Incredibles 2, and her live interpretation of Radiohead's Creep became an international phenomenon nearing 4 million views and counting. In 2019, Carrie released a full-length solo record, The 44th Chord, which was featured on Z100 with Celine Dion, Madonna, Katy Perry, and Ariana Grande. She released her debut solo record, Echo in 2012 which reached #44 on the iTunes Pops Charts.
Carrie Most recently performed Carnegie Hall in February of 2020, to a sold-out crowd. She sang the songs of her heroes and her own original material, receiving a standing ovation for her performance. Other special guest performances include Madison Square Garden with Phish for their highly anticipated New Year's Eve Extravaganza and the Metropolitan Opera with Hugh Jackman.
Sponsored by The Doctors Company with additional support from Jackson National Life Insurance Company.
Important Livestream Information

Wharton Center's partner for this livestream event is Eventbrite.com. Due to security measures through Eventbrite, your livestream performance link can only be used once after the performance has begun. Be sure to only open the link to the performance on the device you wish to watch it on and do not exit the page until the performance has concluded.