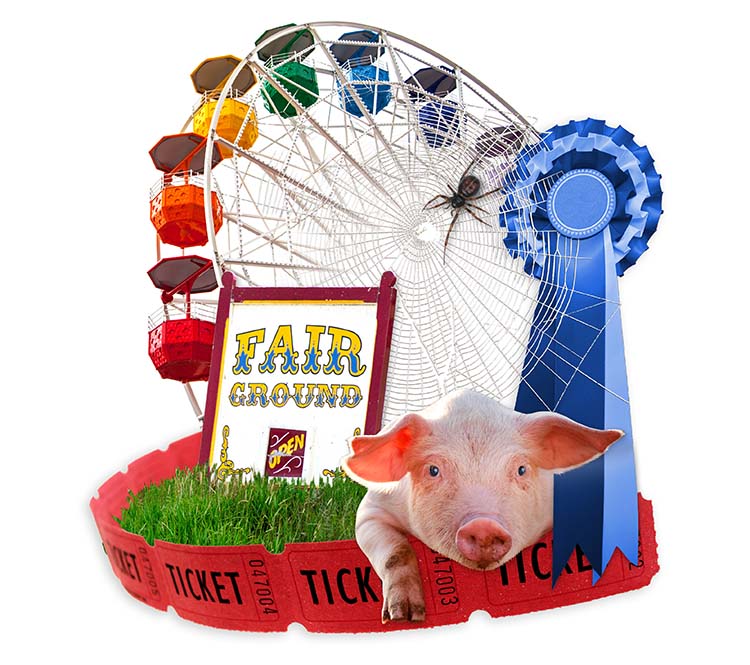 Feb
23
-
26
, 2023
Fairchild Theatre
Charlotte's Web
MSU Department of Theatre
Feb
23
-
26
, 2023
Fairchild Theatre
Charlotte's Web
MSU Department of Theatre
Charlotte's Web, originally scheduled to open on February 17, 2023, has been rescheduled to open on February 23, and Tuesday, February 22, at 7pm will now be an Open Dress Rehearsal. All are welcome to this rehearsal.
__
Adapted by Joseph Robinette
Directed by Ann Folino White
Produced by special arrangement with THE DRAMATIC PUBLISHING COMPANY of Woodstock, Illinois
Based on E.B. White's loving story of a pig named Wilbur and a little gray spider named Charlotte, this treasured tale explores bravery, selfless love, and the true meaning of friendship. Wilbur has a problem: how to avoid winding up as pork chops! Charlotte weaves a solution which not only makes Wilbur a prize pig but ensures his place on the farm forever.
Funding for the tours, pre-show activities, and Sensory-Friendly Performance is made possible in part by a grant from Michigan Humanities, an affiliate of the National Endowment for the Humanities.
Free Presentations and Tours

Ticket buyers will have an opportunity to sign up for one of three free presentations and tours at the MSU Bug House, the MSU South Campus Animal Farm, or backstage at the Fairchild Theatre. Tours run on Saturday, Feb. 25, and Sunday, Feb. 26, from 9 a.m. to 12:30 p.m. The matinee performances on the Feb. 25 and 26 also will include interactive pre-show activities from 12:30 to 1:30 p.m. featuring "Meet and Greet A Michigan Farmer" along with chicks and lambs, plus "Become an Animal" stations.

Sensory-Friendly Performance

Wednesday, February 22, 2023, at 7:00pm is a Sensory-Friendly Performance.

Groups

Groups of 15 or more are eligible for 10% off regular ticket prices. Please note that group tickets must be purchased through the Wharton Center Ticket Office, at (517) 884-3130, at least 24 hours in advance of the date of performance.

Show Discussions

Director Pre-Show Discussion Sunday, February 19, 2023, at 1:15pm
Post-Show Discussion on Thursday, February 23, 2023, at 7:00pm (following the performance)

Late Seating

The ticket office at the Fairchild Theatre opens one hour prior to the show with doors opening 30 minutes prior. It will close 5 minutes after the posted start time as late seating beyond that point will disrupt the performers and fellow audience members.