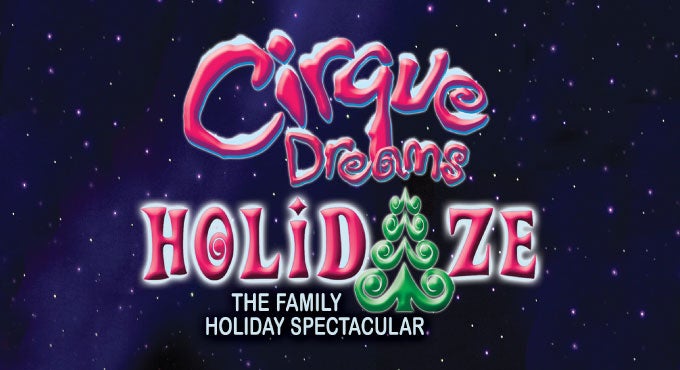 Dec
17
-
19
, 2015
Cobb Great Hall
Cirque Dreams Holidaze
Dec
17
-
19
, 2015
Cobb Great Hall
Cirque Dreams Holidaze
Preview the Program HERE.
Cirque Dreams Holidaze lights up the 2015 holiday season with its newest holiday stage spectacular. THIS IS A SHOW NOT TO BE MISSED: it's a cirque show...Broadway musical...holiday spectacular...and family show, all in one. From the creators of the groundbreaking Broadway hit Cirque Dreams Jungle Fantasy, Cirque Dreams Holidaze is "so full of energy it could end our dependence on oil" according to the New York Daily News, and "a delicious confection of charm, sparkle and talent by the sleigh load." Don't miss this international sensation that "Dazzled...at the Kennedy Center" according to the Washington Post.
In Cirque Dreams Holidaze, Broadway director Neil Goldberg re-imagines the holiday season with over 300 costumes, 20 acts and 30 performers from 12 countries showcasing an endless variety of imaginative, heartpounding and gravity-defying feats you have to see to believe!
For all audiences, ages 5 and up.
Performance Run Time: Approximately 2 hours which includes a 20 minute intermission.
Sponsored by Demmer Corporation; and Physicians Health Plan
Additional Ticket Information

For all audiences, ages 5 and up.
Performance Run Time: Approximately 2 hours which includes a 20 minute intermission.

Group Information

Contact our Group Sales Dept. for Group Rates at 517.884.3130