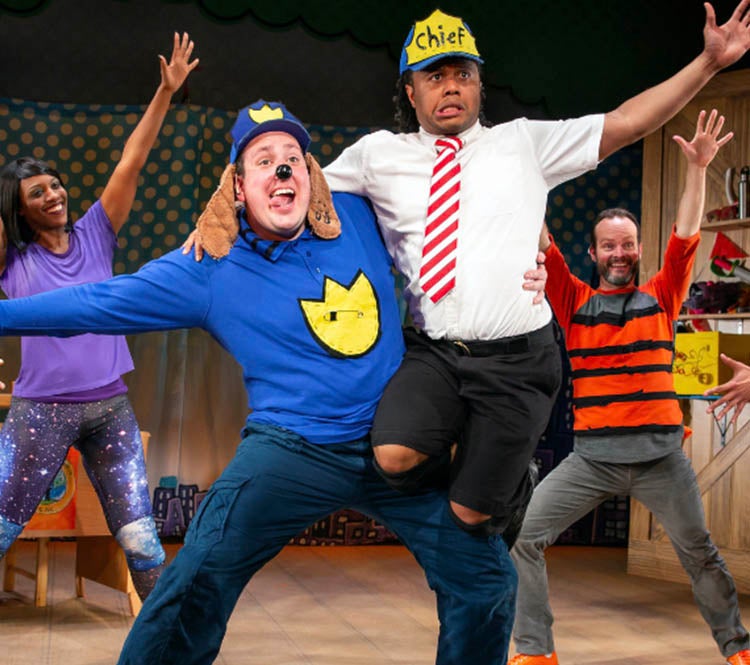 Feb
27
, 2022
Cobb Great Hall
Dog Man: The Musical (SFP)
Sensory-Friendly Performance
Feb
27
, 2022
Cobb Great Hall
Dog Man: The Musical (SFP)
Sensory-Friendly Performance
Presented by Theatreworks USA
A hilarious new musical based on The New York Times #1 bestselling series from Dav Pilkey featuring the crime-biting canine who is part dog, part man and ALL HERO! He's ready to take on Petey the Cat, the felonious feline who's always hacking up harebrained schemes. Songs for the show by Kevin Del Aguila, a New York Outer Critics Circle Award nominee for Altar Boyz, and Brad Alexander, an Emmy© winner for Peg + Cat.
---
Sensory-Friendly Performances are sponsored by Delta Dental of Michigan with additional support from AF Group.
Sensory-Friendly Performance

Wharton Center, in collaboration with a variety of MSU and community partners, is creating an initiative to provide a supportive and welcoming environment that will make live theatre accessible to those with autism spectrum disorder (ASD), developmental disabilities, sensory processing disorder, and other sensory-sensitive people and their families.

Additional information about Sensory-Friendly Performance

Covid-19 Protocols

For Sensory-Friendly Performances

Download the Social Narrative, Sensory Map, and FAQ for Sensory-Friendly Events at whartoncenter.com/sfp.
While we do allow food and beverage in the theatre for our SFP events, please limit food to "snack size" portions and drinks to 12 oz or smaller water in clear bottles if at all possible.
For the safety of our guests, staff, and performers, we ask that you remain masked the entire time you're in the building.
If you are unable to wear a mask for medical or sensory reasons, please let our staff know.
View an extensive digital tour of Wharton Center prior to attending a performance.

Updated as of January 1, 2022. Safety requirements in place at Wharton Center:

Proof of vaccinations or negative test for ages 12 and older.

Provide proof of vaccination by showing an original vaccination card, a copy of the card or a digital photo on a smartphone, AND a photo ID, such as a driver's license or passport.
Unvaccinated patrons must show a negative COVID-19 test. Your test must list the results, a time stamp within 72 hours before your performance time, your name AND be presented with a photo ID.
Michigan State University students, faculty and staff can show their University ID as proof of compliance with the university's vaccine mandate.

Wearing of masks indoors, regardless of vaccination status, for the duration of the performance.

Refunds
Contact the ticket office by email or phone for information on how to proceed.

Complimentary activity packets

Complimentary activity packets will be available to kids in attendance following the performance, with thanks to Wharton Center Inner Circle.