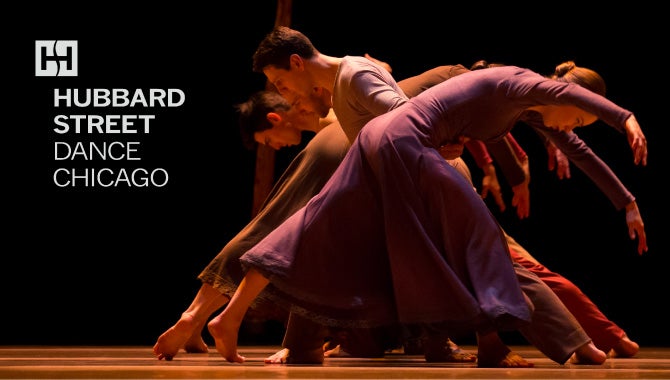 Oct
10
, 2017
Cobb Great Hall
Hubbard Street Dance Chicago
Oct
10
, 2017
Cobb Great Hall
Hubbard Street Dance Chicago
"Take a deep breath, because Hubbard Street Dance Chicago is going to take your breath away." – The Washington Post
Long known as one of the most original forces in dance, Hubbard Street Dance Chicago celebrates its 40th anniversary with a long-awaited return to Wharton Center! A true audience favorite, the ensemble will showcase a night of works that perfectly represent its past, present and future. Opening the performance is Robyn Mineko Williams' boldly ingenious Cloudline, and then two works by legendary choreographer Nacho Duato: ViolonCello, an enthralling duet where a cello comes to life as a dancer, and the celebrated Jardi Tancat, based on Spanish folk tales with a charming, yet passionate, portrayal of three couples and their enduring spirit in the face of adversity. The performance closes with the great choreographer William Forsythe's One Flat Thing, reproduced—a thrilling adrenaline rush that is stunning in its sense of rhythm and flow.
"Hubbard Street Dance Chicago ought to bottle itself as a cure for the ills of the era." – The New York Times

There will be an Insight Preview before this performance beginning at 6:45pm in the Stoddard Grand Tier Lounge.

Immediately following the performance, company members will lead a brief discussion and take questions from the audience inside the Cobb Great Hall.
Sponsored by Farm Bureau Insurance.
Media Sponsor: Michigan Radio
Additional Ticket Information