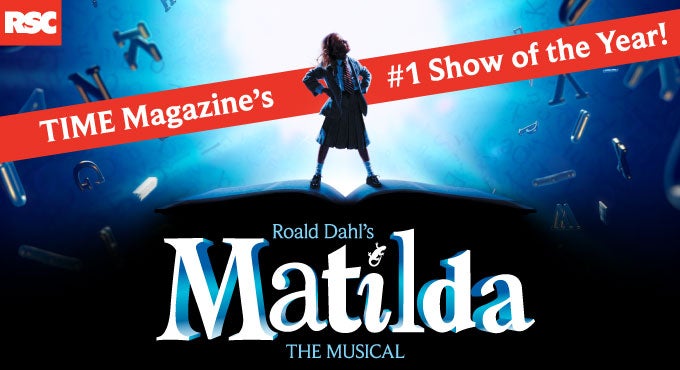 Apr
19
-
24
, 2016
Cobb Great Hall
Matilda the Musical
Apr
19
-
24
, 2016
Cobb Great Hall
Matilda the Musical
"Rejoice. It is even more glorious than promised." –The New York Times
"WELCOME TO THE DELIRIOUSLY AMUSING, HEARTWARMING, HEAD-SPINNING WORLD OF MATILDA THE MUSICAL. YOU WON'T WANT TO LEAVE." –Bloomberg News
TIME Magazine's #1 Show of the Year! Winner of 50 international awards, including four Tony Awards®, Matilda The Musical is the story of an extraordinary girl who, armed with a vivid imagination and a sharp mind, dares to take a stand and change her own destiny. Based on the beloved novel by Roald Dahl, MATILDA continues to thrill sold-out audiences of all ages on Broadway and in London's West End. The Wall Street Journal says, "The makers of MATILDA have done the impossible – triumphantly! It is smart, sweet, zany and stupendous fun."
In Matilda Wormwood's world, everyone speaks lightning-fast -- with accents – especially the kids! So, if you'd like to follow along with Dennis Kelly and Tim Minchin's award-winning songs and lyrics, you can view & print them HERE.
For all audiences, ages 8 and up.
Run Time: 2 hours 40 minutes which includes a 20 minute intermission.

On Thur. April 21 there will be an Insight Preview before the performance.
Insight Preview Speakers: Tamara Butler, PHD, Assistant Professor of English Literature at MSU and Thais Rousseau, Children's Librarian of East Lansing Public Library.
Time: 6:45 pm
Location: Stoddard Grand Tier Lounge

Mt Hope STEAM Elementary and Pleasant View Visual and Performing Arts Academy
Opening Reception, Sunday, April 17, 2016 2:00 – 4:00 pm
Additional Ticket Information

For all audiences, ages 8 and up.

Run Time: 2 hours 40 minutes which includes a 20 minute intermission.

Group Information

Contact our Group Sales Dept. for Group Rates at 517.884.3130