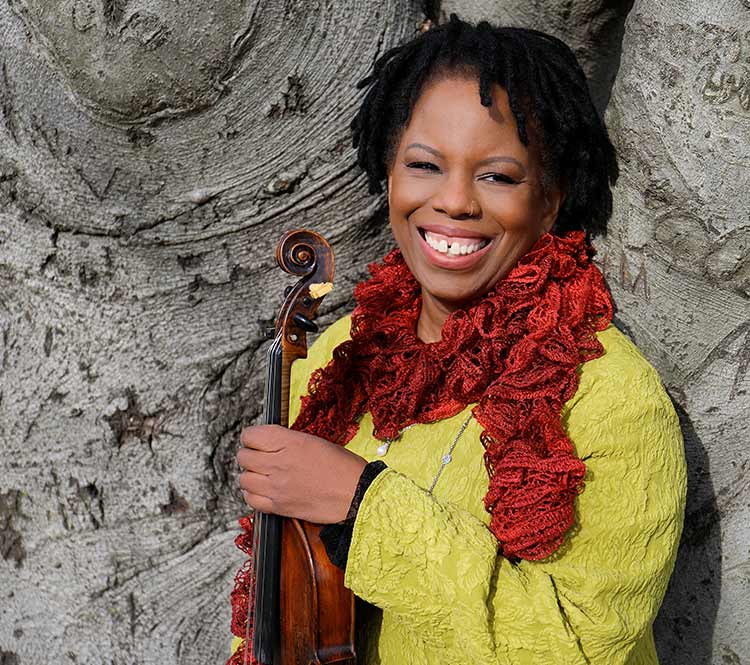 Feb
22
, 2019
Cobb Great Hall
Regina Carter: Simply Ella
Feb
22
, 2019
Cobb Great Hall
Regina Carter: Simply Ella
"Whenever I hear an Ella recording it grabs me at my core. I'm entranced by her. [She] is sublime ... I'm so excited to celebrate an artist who has meant so much to all the notes in my musical life." –Regina Carter
Detroit native Regina Carter is the foremost jazz violinist of her generation. Her quest for beauty and passion for excellence did not escape the attention of the MacArthur Foundation, who awarded Regina their prestigious fellowship "genius" grant. Regina's recent critically acclaimed release, Ella: Accentuate the Positive, and touring program, Simply Ella, mark the 100th birthday of the incomparable Ella Fitzgerald—the source of Regina's musical inspiration. This special performance also features a stellar band comprised of MSU Jazz Studies professor Xavier Davis on keyboard; Chris Lightcap, bass; Marvin Sewell, guitar; and Alvester Garnett on drums.
"Carter is at the top of her game in this fantastic tribute." –Downbeat Magazine

"…a hard-charging soloist whose precisely focused tone and graceful way with a ballad hint at her long years of classical training." –New York Times

Sponsored by The Doctors Company.
Media Sponsor: WKAR.
Program and Engagement Events

There will be an Insight Preview with Regina Carter, moderated by Mike Stratton, before the performance in the Stoddard Grand Tier Lounge at 7:15pm.

Run time is approximately 90 minutes with no intermission.

Group Information

Contact the Group Sales department for group rates at (517) 884-3130.