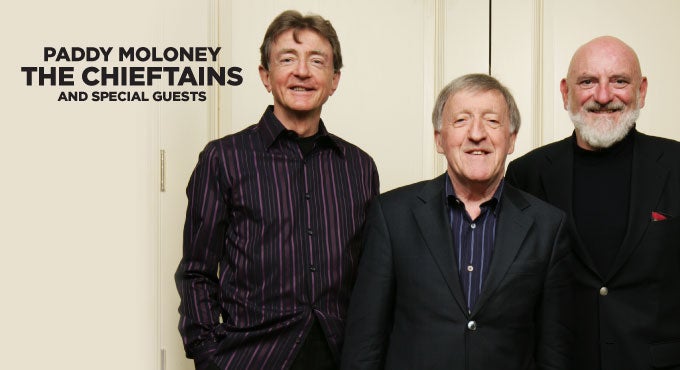 Mar
3
, 2016
Cobb Great Hall
THE CHIEFTAINS
Mar
3
, 2016
Cobb Great Hall
THE CHIEFTAINS
Experience a night of music, dance and merriment with The Chieftains and special guests! The Chieftains are more than just an Irish folk band – they are the Irish folk band. Ireland's musical ambassadors for over 50 years, these multi- Grammy-winners are recognized for making traditional Irish music a global phenomenon. Led by Paddy Moloney, the master of the pipes and tin whistle, the group includes Matt Molloy on flute and Kevin Conneff on bodhrán drum and vocals in their return to Wharton Center for the first time in over ten years. Their foot-stomping beats and jovial spirits will leave audiences feeling positively Irish. Along with traditional Irish step dancers, the performance will also include members of the Haslett High School Choir and MSU Department of Theatre, and the Glen Erin Pipe Band of Lansing, in a portion of the performance, as well as guest musicians throughout. Start celebrating St. Patrick's Day a little early this year – don't miss it!

There will be a Spotlight Dinner available prior to the performance ($55 each).
The Guest Speaker will be Paddy Moloney, Founder of The Chieftains.
Sponsored by Demmer Corporation and White, Schneider, Young & Chiodini P.C.
Media Sponsor WKAR.