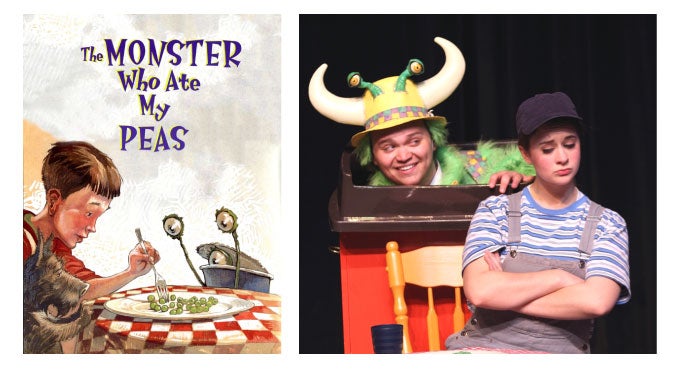 Jan
31
, 2016
Pasant Theatre
THE MONSTER WHO ATE MY PEAS
Jan
31
, 2016
Pasant Theatre
THE MONSTER WHO ATE MY PEAS
Based on the multi-award story by Danny Schnitzlein, this musical tells the funny and poignant story of a young boy who doesn't want to eat his peas. When a crafty monster appears underneath his kitchen table, the boy is ready to make a deal: if the monster eats his peas, the boy will give the monster any of his possessions. First, it's a soccer ball, then a bike. But when the monster raises the stakes, will the boy face his fears? An entertaining and engaging tale about the value of will power.

Beginning one hour prior to performance time in the Christman Lounge , children can make a "Pea Bead Bracelet" and a "Paper Dog", they may also play a "Feed the Monster Pom Pom" Game and a "Feed the Monster Beanbag Throw" Game.
Special thanks to Wharton Center Inner Circle for making this activity possible
Recommended for ages 4-8
Act One Family Series is sponsored by Granger, Michigan Council for Arts and Cultural Affairs, the National Endowment for the Arts, and Jackson National Life Insurance Company.
Media Sponsor WKAR.