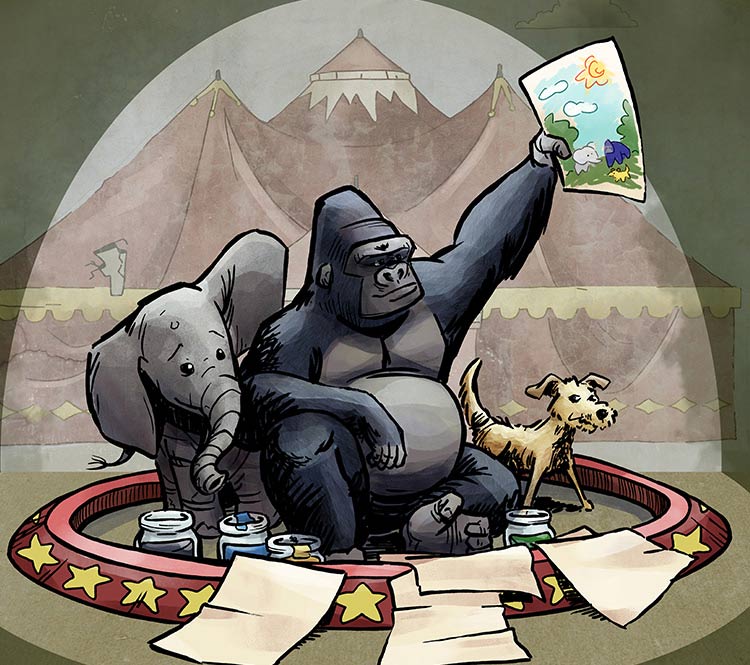 Feb
2
, 2019
Pasant Theatre
The One and Only Ivan
Featuring Lifeline Theatre
Feb
2
, 2019
Pasant Theatre
The One and Only Ivan
Featuring Lifeline Theatre
Recommended for ages 6-Adult
"A captivating staging ..." –Splash Magazines
For 27 years, the world of Ivan the gorilla was a dull cage in a roadside shopping mall. But when he meets Ruby, a baby elephant captured out of the wild, Ivan's ambition and imagination grow to meet the challenge of rescuing his endangered companion. Aided by Bob, the scrappy dog, and a young human, Ivan sets out to become the great silverback and protector he was always meant to be. Enter the mind of a remarkable hero in this unforgettable story of enduring friendship, drawn from true events and based on the powerful Newbery Medal-winning 2012 book by Katherine Applegate, a #1 New York Times bestseller.
---
This series is made possible in part by Granger; Jackson National Life Insurance Company; Piper & Gold Public Relations; and SuttonAdvisors, PLC.
Media Sponsor: WKAR.
Group Information

Contact the Group Sales department for group rates at (517) 884-3130.