Apr
20
, 2018
Maceo Parker: To Ray with Love
Cobb Great Hall
A Special Tribute to Ray Charles, The Ray Charles Orchestra & The Raelettes
A young saxophonist from North Carolina once stood outside the Greensboro Coliseum hoping to catch just a glimpse of his idol, Ray Charles. That young man went on to become a legendary player in funk music history as James Brown's saxophonist. Ray Charles' music remained an undeniable influence throughout Maceo Parker's career, and he included a Ray Charles cover on each of his albums. Maceo Parker was thrilled to go on tour with Charles in the '90s. Maceo Parker pays tribute to Ray Charles, The Ray Charles Orchestra & The Raelettes in a spectacular program honoring his hero. To Ray with Love, the ultimate tribute to Ray Charles, premiered at the Hollywood Bowl in 2016, followed by a performance at the Monterey Jazz Festival to stunning acclaim.
Now, this astonishing show comes to East Lansing.

There will be an Insight Preview before the performance beginning at 7:15pm in the Stoddard Grand Tier Lounge.
Sponsored by Auto-Owners Insurance; Brogan, Reed, Van Gorder & Associates/Ohio National Financial Services; and Jackson National Life Insurance Company.
Media Sponsor: WKAR
You may also like...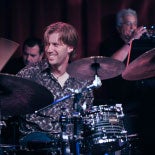 Featuring Tommy Igoe
Pasant Theatre
Event Details
Apr

20

, 2018

Cobb Great Hall

Tickets from $25

Contact our Group Sales Dept. for Group Rates at 517.884.3130
Policies & Accessibility
What Accessibility Services are offered at Wharton Center?

Wharton Center offers many patron services including Audio Description, Sign Language Interpretation, Assisted Listening Devices, Barrier-Free Parking and Wheel Chair Pick-up. Please visit the Accessibility page for more information.

Helpful Tips and Personal Responsibility Statement

To ensure your visit to Wharton Center is a great one, please visit the Helpful Tips page. Questions about cameras, children, late seating and parking can be answered here.

Can I exchange my ticket? What happens if I lose my ticket?