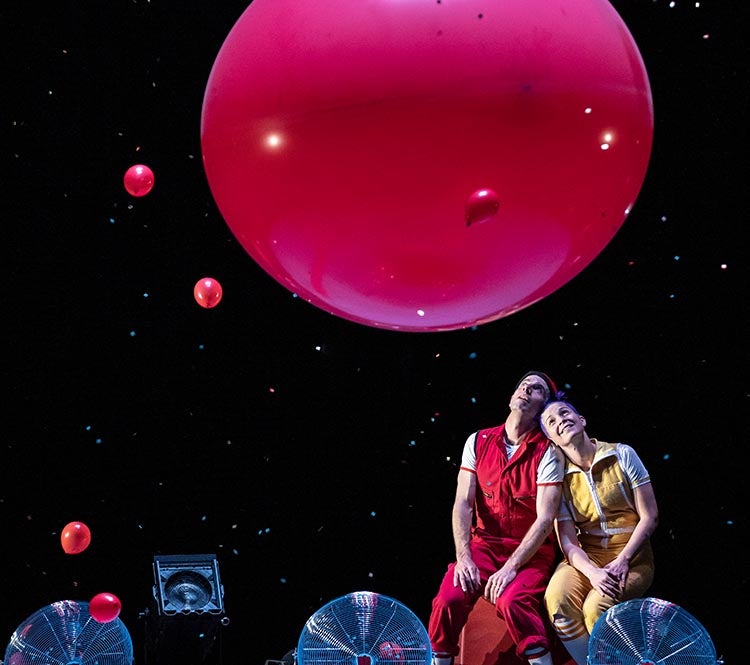 Jan
26
, 2024
Cobb Great Hall
AIR PLAY
Jan
26
, 2024
Cobb Great Hall
AIR PLAY
Tickets available with a season subscription. Individual ticket on sale to be announced.
"Holds the whole audience in the palm of its outstretched hand" —British Theatre Guide
In Air Play, umbrellas fly, fabrics soar over the audience, balloons swallow people, and snow swirls, filling the stage. With gales of laughter, Air Play bounces on the edge of definition: part comedy, part sculpture, part circus, part theater, transforming ordinary objects into uncommon beauty. Created by circus performers Seth Bloom and Christina Gelsone, in collaboration with kinetic sculptor Daniel Wurtzel, Air Play was devised through years of experimentation with simple materials, movement, and technology. Great for all ages.
"A joy from start to finish" —Sydney Morning Herald (Australia)
Media sponsor: Michigan Radio
Age and Content Warnings

Recommended for ages 5 and up.

Latex balloons are used onstage and in the audience.