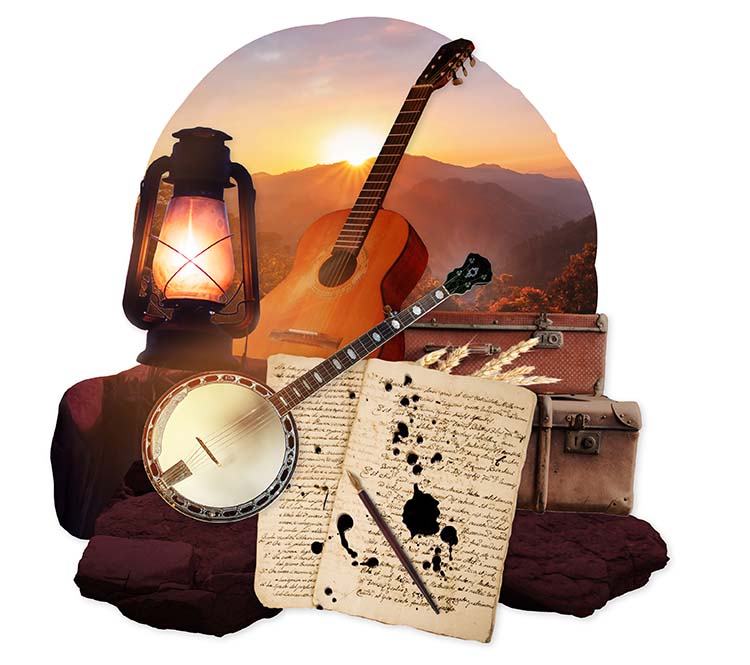 Apr
14
-
23
, 2023
Pasant Theatre
Bright Star
MSU Department of Theatre
Apr
14
-
23
, 2023
Pasant Theatre
Bright Star
MSU Department of Theatre
Music, Book, & Story by Steve Martin
Music, Lyrics & Story by Edie Brickell
Directed and Choreographed by Brad Willcuts
Music Direction by Dave Wendelberger
Inspired by a true story and featuring a Tony®-nominated score, BRIGHT STAR tells a sweeping tale of love and redemption set against the rich backdrop of the American South in the 1920s and '40s. When literary editor Alice Murphy meets a young soldier just home from World War II, he awakens her longing for the child she once lost. Haunted by their unique connection, Alice sets out on a journey to understand her past–and what she finds has the power to transform both of their lives.
---
Bright Star is presented through special arrangement with, and all authorized performance materials are supplied by Theatrical Rights Worldwide 1180 Avenue of the Americas, Suite 640, New York, NY 10036 theatricalrights.com
Groups

Groups of 15 or more are eligible for 10% off regular ticket prices. Please note that group tickets must be purchased through the Wharton Center Ticket Office, at (517) 884-3130, at least 24 hours in advance of the date of performance.

Show Discussions

Director Pre-Show Discussion Sunday, April 16, 2023, at 1:15pm
Post-Show Discussion on Thursday, April 20, 2023 (following the performance)

Late Seating

The ticket office at the Fairchild Theatre opens one hour prior to the show with doors opening 30 minutes prior. It will close 5 minutes after the posted start time as late seating beyond that point will disrupt the performers and fellow audience members.